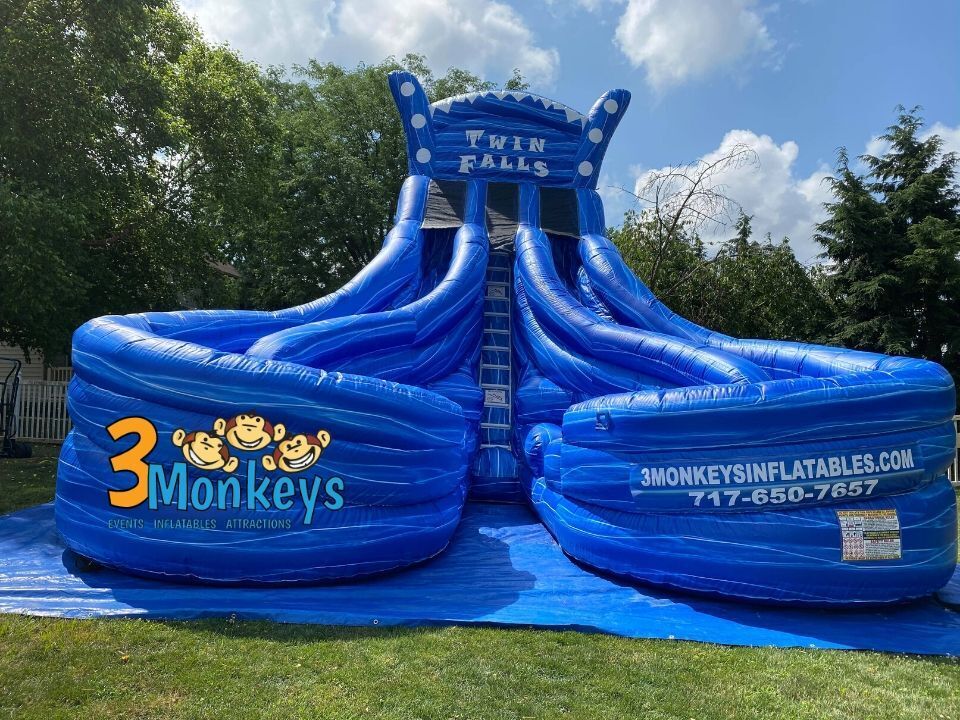 3 Monkeys Inflatables Shares Important Tips for Safe and Fun Water Slide Rentals
#1 Inflatable Rental Specialist Featuring an Expansive Collection of Dry and Wet Slides and Party Rentals
3 Monkeys Inflatables, #1 inflatable rental specialist in all of Central PA, shares some important tips for safe and fun water slide rentals. This company has been in the industry for more than 13 years now and has a proven track record of providing the largest inventory of inflatables, party rentals, dry and wet slides, and bounce house combos. All the inventory is regulated by the Department of Agriculture Ride Safety Division for safety and standards. The company also has 3 in-house state ride inspectors who are responsible for designing and executing Ride Safety Training Programs with the staff.
While the above are some crucial steps taken by 3 Monkeys Inflatables to ensure that the equipment is safe, there are a few tips that customers should follow for safe and fun water slide rentals. First and foremost, guests should maintain basic etiquette such as waiting for their turns. Young guests might get very excited seeing the water slides and might push each other for their turns. Parents, caretakers, party hosts, and the 3 Monkeys staff must guide the children. Riders should not jump, flip or run on the inflatable and must wait for their turn.
Slides are not meant for bouncing. Objects that might damage the inflatables should be avoided in the water slide rentals. Riders must remove any sharp jewelry or accessories while using the slides. Rough games are prohibited for the safety of the guests and the rentals. All riders must enter the inflatables in the seating position only. Guests must also wear appropriate wet suits to make the most of their slides. Last but not least, small children must never be left unsupervised. The worst accidents happen when there are no parents or adults supervising the kids.
All the water slide rentals, bounce house rentals, and party rentals are cleaned and sanitized after every use. The wet slides come with great landing pads which offer smooth rides from start to finish. There is an amazing selection of inflatable backyard water slides, the most popular being Kahuna, Rockin Rapids, Splash Down, etc. The larger slides such as the 27-foot lava water slide rentals and the 22ft Fire n Ice slides are quite the entertainers. Whatever the choice may be, the professionals here will set up the equipment in no time. There are rentals available for guests of all age groups. Party organizers can also complete the party arrangements with carnival games, extreme interactive games, concessional machines, tents, tables, and much more.
To learn more visit https://www.3monkeysinflatables.com/category/water_slide_rentals/
About 3 Monkeys Inflatables
3 Monkeys Inflatables are the carnival game and backyard game rental specialists delivering to York, Lancaster, Hershey, Harrisburg, Baltimore, Reading, and many more cities in Central Pennsylvania and Maryland.
Known as the mid-Atlantic attractions and large event specialists, this company caters to the entertainment needs in the community, college, church, and corporate events, school events, birthday parties, graduation parties, and other special events.
###
Contact
3 Monkeys Inflatables
Phone: 717.650.7657
Website: https://www.3monkeysinflatables.com/
newsroom: news.38digitalmarket.com

This content is published on behalf of the above source. Please contact them directly for any concern related to the above. 
This press release may contain forward-looking statements. Forward-looking statements describe future expectations, plans, results, or strategies (including product offerings, regulatory plans and business plans) and may change without notice. You are cautioned that such statements are subject to a multitude of risks and uncertainties that could cause future circumstances, events, or results to differ materially from those projected in the forward-looking statements, including the risks that actual results may differ materially from those projected in the forward-looking statements.