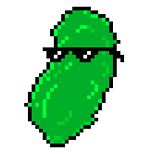 8 Bit Pickle Expands Its Renowned Comprehensive Resource
Brings more of its daily dose of random retro for readers
Bit Pickle, the renowned and trusted name amongst a vast follower base, has expanded its comprehensive resource to bring more of its daily dose of random retro for readers.
There was something inexplicably cool about retro style, which is why it has stood the test of time. And everything retro is back in vogue all over the world from TV shows to movies, music and comics, there is a growing interest about retro styles and everything it entails amongst people across age groups. And 8 Bit Pickle has become a reliable resource for all the information they seek.
The platform was established to raise the bar for retro content to benefit followers. It has hit the right spot with readers by specializing in the pop culture of the 80s and 90s. But of course, readers can also find some of the 60s and 70s, and even early 2000s with the fitting vibe. She-Ra, Colgate Pumps, Atari; the platform has practically everything readers could look for.
At the heart of the quality content at 8-Bit Pickle is its team of writers, who are equally passionate about all things retro. Besides the founder Shaun, the team also includes John from Canada, who is a toy photographer. He also specializes in collectibles and has seen his work published in several publications of repute. He hopes to write a series of books dealing with the numerous toy and collectible fads that have defined society over the last fifty years.
On the other hand, Marti Escageda "El Gamer Cosplayer" is a Multimedia Producer and Retro Game enthusiast. He runs a hugely popular gaming channel in South America that has amassed a fan following of over 100,000 subscribers on YouTube and 50,000 on Facebook. He has also written articles for several online publications that have made their mark on the gaming community.
Together the team of 8 Bit Pickle goes the distance to find only high-relevance, well-researched, and unbiased information for the benefit of retro fans. It's interesting to note that the exciting random retro information and news is divided into different categories like video games, movies, cartoons, TV, music, toys, food, wrestling, pop culture, as well as products so that readers can find what they are looking for with ease.
They also have the option of searching for information based on the decade. 10 Best Military / War Video Games For The PlayStation 1 (The PS1), and 10 Best Julia Roberts Rom Coms, are just some of the engaging types of articles one can find on the platform that has been expanded.

Anyone who wants to get their daily dose of random retro can visit 8bitpickle.com.

About 8 Bit Pickle
One of the largest and most highly-regarded resources for retro and nostalgia content, the platform has made a name for itself on the back of high-quality information related to cartoons, TV, wrestling, food, movies, music and so much more.
###
Media Contact
8-Bit Pickle
Email: [email protected]
newsroom: news.38digitalmarket.com