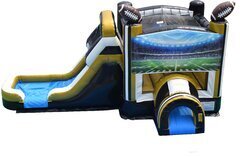 About To Bounce Unveils Best Bounce Houses For Birthday Parties
Top quality Bounce House Rentals options for people of New Orleans and surrounding areas
About To Bounce, the renowned name in the business has unveiled top-quality Bounce House Rentals options for birthday parties that tick the right boxes for the people of New Orleans and surrounding areas.
Birthdays are special occasions, which allow friends and families to get together and have the time of their lives once a year. People want to throw a fun and exciting parties that will be etched in the guests' minds forever. And for people of New Orleans and other parts of the region, About To Bounce has become the go-to place for all types of Party Rentals and inflatables that add an extra dollop of fun to the proceedings.
Since its inception, About To Bounce has aimed to raise the bar for party supplies for the area's people. Its vast collection of bounce houses, Water Slide Rentals, and obstacle courses have been a huge hit at all events, including school and church gatherings, and community or corporate parties. And they add that extra sparkle to special occasions like birthdays, weddings, and anniversaries that will be discussed for a long time.
With years of experience in the field, About To Bounce understands that all clients have specific demands and requirements from the party supplies they look for. Its friendly and well-trained professional team considers their needs and offers them solutions accordingly. The solid customer support is one of the highlights of the services offered by the company and has led to more 5-star google reviews than anyone in the industry.
Of course, About To Bounce also ensures that its collections including Bounce House Rentals spell quality. While clients can be assured of the newest and safe inventory, the company carries out regular quality checks to keep their minds at rest. Moreover, they are guaranteed safe and sanitized rentals for their events. A safe and secure online booking process, free delivery and setup, and no cancellation fees are some of the other hallmarks of the services.
That's why the Bounce House Rentals from About To Bounce are considered the best choice for birthdays and other events. Some of the options available in the collection include:
A frozen bounce house can be rented for just $159.99.

An Inflatable Combos 7in1s Bounce House is available for $234.99.

A Monster Truck Inflatable Bounce House Camo is priced at $159.99, and so is Yo Gabba Gabba Inflatable bounce house with Basketball Goal Pink.
An extra large bounce house costs $174.99.
There are many other smart options in the About To Bounce collection, making it the only place to look for birthday party supplies and inflatables.
About About To Bounce
About to Bounce is a party rental company offering services in New Orleans and surrounding areas, including Metairie, Kenner, Belle Chase, and St. Rose. With the most extensive selection of top-quality, clean, and safe inflatables and other party supplies at affordable rates, the company has become the go-to name for people in the New Orleans areas.
They specialize in party rentals for all kinds of small, medium, and large-sized events. With easy online bookings, customers can select from pre-made packages or design their packages with a range of rock climbing walls, photo booths, bounce houses, water slides, and more.
###
Media Contact
About to Bounce
Address: 909 South Al Davis Road, New Orleans, LA. 70123
Phone: 504-914-6489
URL: https://www.abouttobounce.com/
Email: joe@abouttobounce.com
newsroom: news.38digitalmarket.com