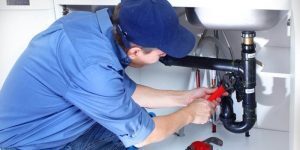 BlackStorm Design + Marketing Secures New Client In The Form Of Magellan Plumbing
Set to help the renowned residential plumbing company in Concord, NC to reach out to a wider audience
BlackStorm Design + Marketing has added another sterling name to its impressive portfolio by securing Magellan Plumbing, the leading name in the business as its new client, and is set to take it services to a wider audience.
Since its inception, the locally owned and operated company based out of Concord, North Carolina has aimed to raise the bar for plumbing services for residential clients in the region. It has consistently done that by taking their specific needs into account right at the onset. It then brings its years of experience and expertise to the table to ensure that it exceeds clients' expectations every single time.
And that's how it has come to be known as the Top-Rated Plumbing Company in Concord, North Carolina. The glowing customer reviews it has received are a solid testament to it. At the heart of the exceptional services offered by the company is its team of highly experienced and well trained professionals. They can handle any plumbing installation and repair tasks quickly, efficiently, and without causing any inconvenience to clients.
It is interesting to note that Magellan Plumbing maintains complete transparency and is upfront with its clients from the word go. To begin with, all its team members are background checked and drug tested, which puts clients' minds at rest. They also receive honest and upfront pricing for the task they have in mind so that they know exactly what they are getting into from the onset.
With only the best quality products and the latest equipment, Magellan Plumbing has ensured that the results are impeccable every time. Friendly and reliable customer service, and deals like veteran and responder discounts are an added advantage. The company has also become the one-stop destination for all residential plumbing needs in Concord, North Carolina because of its wide range of services.
Drain cleaning to leak repair, gas pipe repair, sewer line repair, plumbing inspection, water heater services, tankless water heaters, plumbing fixtures, water piping services, pumping remodels, sewer pumps and water treatment are just some of the other services offered by the company. And now by teaming up with the leader in the digital marketing world - BlackStorm Design + Marketing, it is set to take them to a wider audience in and around Concord, NC.
About Magellan Plumbing
The locally owned and operated company based out of Concord, North Carolina has become the go to name for all kinds of residential plumbing services in the area on the back of its state of the art services, expertise and competitive pricing as well.
BlackStorm Design + Marketing
The digital marketing agency has earned the trust of its clients with its wide range of services including lead generation to increase the home services sales and profits. With proven, cutting edge techniques it ensures that its clients make their mark with their target audience.
###
Media Contact
Magellan Plumbing
URL: https://magellanplumbing.com/
Phone: 704-228-6015
BlackStorm Design + Marketing
Address: 618 S. Gay Street Suite 20, Knoxville, TN
Phone: 1 (865) 205-8822
Web: https://blackstormdesign.com/
newsroom: news.38digitalmarket.com