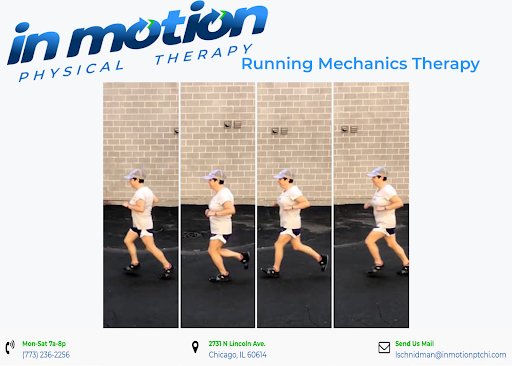 Chicago Based, In Motion Physical Therapy Provides Insights on Risk Factors for Running Injuries
Running injuries are surprisingly common but often overlooked. The leading sports therapy clinic provides insight into what leads to running injuries and tips on how to avoid them.
Leading sports therapy clinic In Motion Physical Therapy recently published a blog post outlining the most common causes of running injuries. Written by a certified physical therapist at the clinic, the post discusses various ways in which the possibility of injuries can be minimized if not avoided. While personal factors like age, sex, height, and gender can't be changed, other things can be altered.
The blog post highlights age as a potential risk factor, with a runner's experience being a rough predictor of their risk of being injured. Generally, beginners are at a higher risk of injury in addition to people who are older or those who are overweight. Also, people who were previously injured or have a history of injuries from other sports are at a higher risk of running injuries. However, even experienced runners who are older with a history of prior running-related injuries are also at a higher risk of being injured. However, the role of gender in running injuries is yet to be fully understood. That's why it is hard to say if females are at a higher risk of running injuries than males or vice versa.
Other factors that lead to running injuries mentioned in the post include a decrease in lower body strength, length of the legs, and training factors. In other words, some people are biomechanically inclined to be better runners and thus are at a lower risk of being injured. That said, people who are at a biomechanical disadvantage can take certain steps to minimize injury from running.
Readers can go through the complete blog post by In Motion Physical Therapy by visiting the company's official website at https://inmotionptchi.com/risk-of-running-injuries.
"Many in the health and fitness industry ask people to run, especially to burn fat, and keep their heart rate up. However, as professionals, we know that not everyone can be a safe runner, some people are at a biomechanical disadvantage when it comes to running, and for them, there are other safer ways to burn fat if that's the goal. While safe stretching before running and warmup laps do help to a certain degree, if you have encountered running injuries in the past, there is a good chance that you are at a higher risk of it. The best way to avoid running injuries is to take things slow, especially if you are new." Said one of the representatives for In Motion Physical Therapy.
She added, "Our blog post goes into just about every common factor that can lead to a running injury. The factors we've outlined are based on our experience and those of hundreds of therapists worldwide that work with runners. That is why this data is so important. If you are a recreational runner or want to burn fat, why not try the elliptical trainer or something similar?"
About In Motion Physical Therapy
In Motion Physical Therapy is on a mission to provide top-quality physical therapy services, which helps patients return to doing the activities they love. The company works with tennis players, runners, and people who want to lose weight. Located in Lincoln Park, the company provides excellent quality care for patients to get back on their feet.
In Motion Physical Therapy
2731 N Lincoln Ave
Chicago, IL 60614
(773)236-2256
There is no offer to sell, no solicitation of an offer to buy, and no recommendation of any security or any other product or service in this article. Moreover, nothing contained in this PR should be construed as a recommendation to buy, sell, or hold any investment or security, or to engage in any investment strategy or transaction. It is your responsibility to determine whether any investment, investment strategy, security, or related transaction is appropriate for you based on your investment objectives, financial circumstances, and risk tolerance. Consult your business advisor, attorney, or tax advisor regarding your specific business, legal, or tax situation.