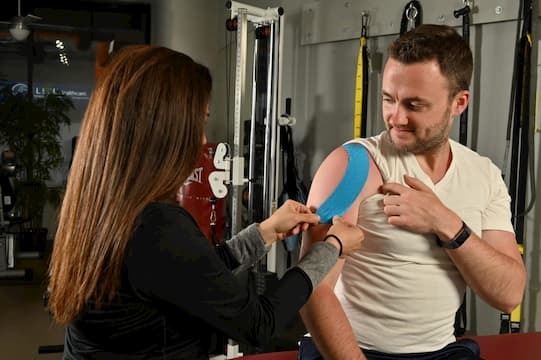 Chicago's Leading Physical Therapy Center Expands Sports Physical Therapies
Its certified physical therapists specialize in working with runners, tennis players, marathoners, and individuals focused on weight loss.
In Motion Physical Therapy, Chicago's leading physical therapy center, is pleased to share that it has expanded its sports physical therapies to marathoners, runners, tennis players, and individuals focused on weight loss. The certified physical therapists here provide high-quality sports physical therapy services to help recreational sports enthusiasts and pro athletes. Conveniently located in Lincoln Park, Chicago, the center is steered by Lauren Schnidman, a doctor of physical therapy. Dr. Schnidman has helped several patients engage in their favorite sports and recreational activities without any limitations. In her several years of experience, she has treated patients from different walks of life.
Dr. Schnidman believes in a holistic approach and provides individualized and comprehensive care instead of shortcuts. A patient is addressed as a whole rather than treating the pain or symptoms alone. The body should be considered one interconnected system, not individual parts. As a certified physical therapist, she first conducts a comprehensive evaluation, followed by tailored treatment plans for orthopedic and sports-related injuries. Holistic physical therapy is not just about helping patients recover from an injury but also about providing them with the tools necessary to decrease the chances of injuries happening again.
Sports therapy evaluations start with functional movement screening, video motion analysis, testing the range of motion according to the requirement of the sport, and functional strength testing. To help individuals return to their optimal level of playing the sport, certified physical therapists use a combination of manual therapy techniques, sport-specific strengthening, sport-specific mobility training, and functional training for sport-specific movement patterns. The therapist will also provide appropriate recommendations for sport-specific braces or orthotics as required. Patients also get a transitional program to personal training, which is a great option for patients who have exhausted the benefits of physical therapy but want to continue with strength and endurance programs provided in a clinical-based environment.
Many professional athletes, runners, and marathoners come for holistic physical therapy to get relief from common sports injuries such as ITB syndrome, hamstring strains, ankle sprains, rotator cuff tendonitis, stress fractures, plantar fasciitis, hip impingement, post-surgical labral, meniscus, rotator cuff, and ACL repairs. Their client-focused, one-on-one sports therapy provides personalized attention. Many clinics have one physical therapist treating many patients at the same time. At IMPT, patients get tailored treatment solutions, with a dedicated and certified physical therapist attending to their needs.
In Motion Physical Therapy focuses on sports injury rehabilitation and is proud to share that it has a high success rate in this area. Its holistic approach incorporates unique science and art, backed by clinically proven treatments that help patients improve their strength, balance, and range of motion. The clinic has the expertise and experience to effectively treat any sports injury, help patients recover from orthopedic injuries, and provide post-surgery physical therapy. Whether it is an injury during practice, an actual game, or a race, the treatments are designed to help people return to the sport they love at the earliest. Patients will be provided direct access to a doctor of physical therapy, Dr. Lauren Schnidman. IMPT is a recognized performance physical therapy center in Chicago specializing in orthopedics, spine care, sports medicine, tennis rehabilitation, and running physical therapy.
To learn more, visit https://inmotionptchi.com/.
About In Motion Physical Therapy
In Motion Physical Therapy provides physical therapy services and helps patients return to regular routines. Athletes looking to return to their favorite sports, teens and adults seeking to lose weight, busy parents looking to improve their body mobility to keep up with their children's busy schedules, post-op patients on the road to recovery, and elderly citizens looking to return to their previously active lifestyles can all benefit from In Motion Physical Therapy's services. The center is led by Dr. Lauren Schnidman, a doctor of physical therapy from Wheeling Jesuit University and an avid sportsman and outdoor activity enthusiast. The services provided at In Motion Physical Therapy are designed to help patients return to their routine activities as soon as possible.
###
Media Contact
In Motion Physical Therapy
Address: 2731 N Lincoln Ave, Chicago IL 60614
Phone: 773-236-2256
Website: https://inmotionptchi.com/
newsroom: news.38digitalmarket.com