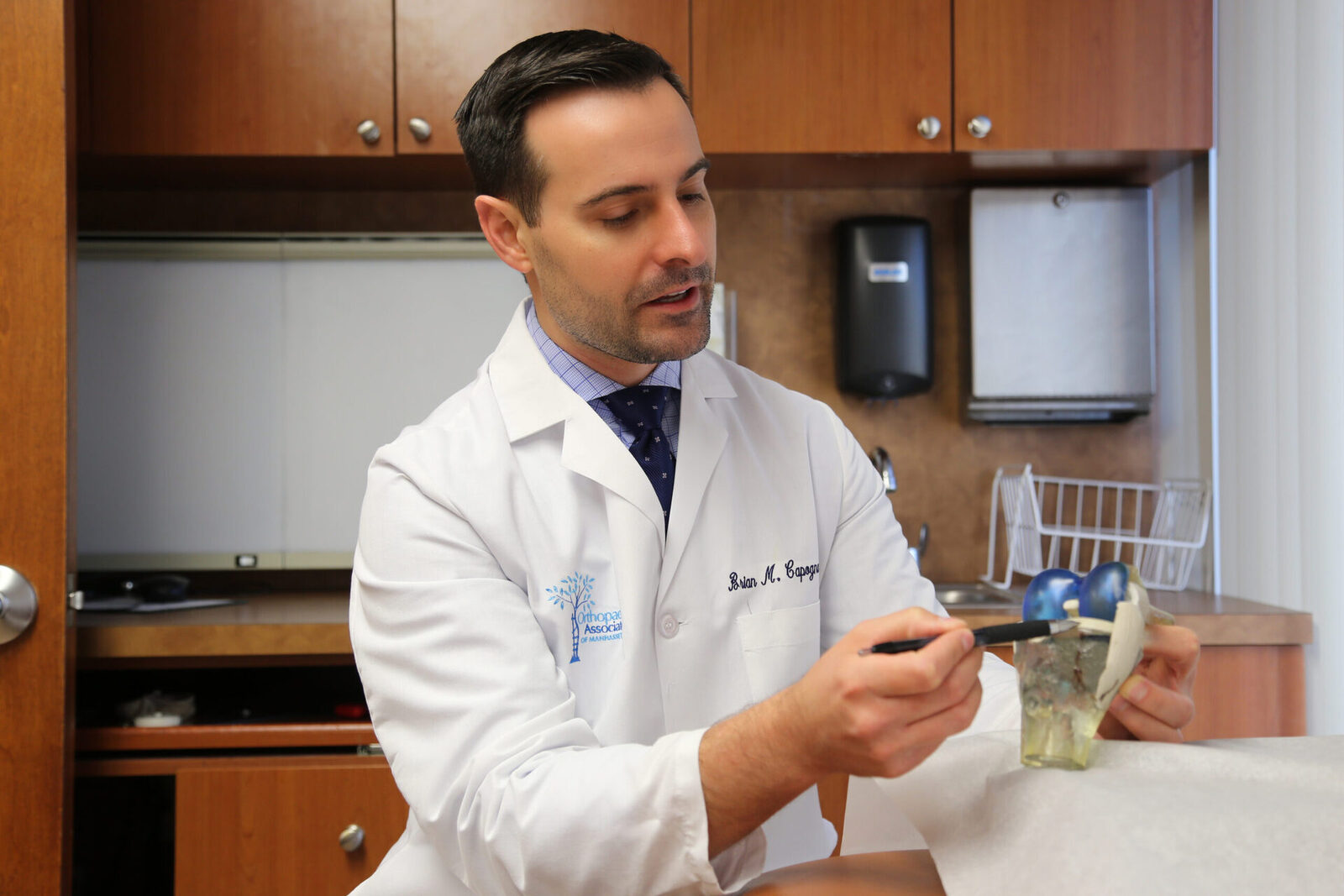 Dr. Brian Capogna Celebrates 4th Year as an Orthopedic Surgeon
Providing World Class Treatments Specializing in Shoulder, Knee, Hip and Elbow Injuries
Dr. Brian Capogna, M.D. celebrates 4th year as an Orthopedic Surgeon. Dr. Brian specializes in orthopedic surgery with a particular focus on joints i.e., shoulder, knee, hip, and elbow injuries. The doctor performs a wide range of sports procedures. The rotator cuff repair is performed to restore function and flexibility and provide relief to the shoulders. Cutting edge techniques include traditional open repair, arthroscopic repair, and mini-open repair techniques. The shoulder labral repair/ stabilization surgery is performed to treat labrum tears. Labrum tears, peeling, and stretching can lead to shoulder instability. Dr. Brian received specialized training in hip arthroscopy and conducted detailed research to address Femoroacetabular impingement (FAI) AND labral tears.
Dr. Brian Capogna performs Tommy John Ligament (UCL) reconstruction and Tommy John Ligament repair technique pioneered by Dr. Jeffrey Dugas in Birmingham, AL. He was also selected to attend a fellowship in Sports Medicine at the Andrews Sports Medicine & Orthopedic Clinic in Birmingham, AL. At the center, he receives specialized training in diagnosing, managing, and treating sports injuries under the guidance of eminent surgeons such as Dr. James Andrews, Dr. Jeffrey Dugas, Dr. Lyle Cain, and Dr. Benton Emblom. Dr. Capogna has experience working as the assistant team physician for NCAA Division Troy Trojans and took care of athletes from Auburn University, University of Alabama, professional wrestlers from WWE, and the Birmingham Barons Minor League baseball team.
Biceps tendon repair is also conducted for active individuals who have injured biceps in their dominant arms. Athletes and those involved in physical labor will benefit from this treatment as they must recover completely. The doctor also offers several treatments and procedures which include UCL reconstruction and repair, elbow arthroscopy, tennis elbow debridement/ repair, hip arthroscopy with labral repair, endoscopic proximal hamstring repair, endoscopic gluteus medius, and minimus repair, meniscus repair, cartilage injury and OCD surgery, ACL and PCL reconstruction, MCL repair and reconstruction, LCS reconstruction, and total and partial knee replacement.
Dr. Brian Capogna has nothing but rave reviews and ratings for his services. Patients have expressed deep satisfaction in choosing Dr. Capogna over other specialists. The doctor takes time to conduct a complete diagnosis, and examine and explain the injury and the options available. The doctor is always available to answer any queries and helps the patients feel comfortable, relaxed, and confident in the process right from pre-op to surgery and post-op to recovery.
To learn more visit https://briancapognamd.com
About Dr. Brian Capogna
Dr. Brian Capogna, M.D. was born and raised on Long Island. He graduated with distinction in Orthopedic Research from Albert Einstein College of Medicine. He was a member of Alpha Omega Alpha medical honor society and an executive chief resident at the NYU hospital. Dr. Brian also attended a sports medicine fellowship at the Andrews Sports Medicine & Orthopedic Clinic in Birmingham, AL. He specializes in training and research in hip arthroscopy to address FAI and labral tears.
###
Contact
Dr. Brian Capogna, MD
Clinic: 600 Northern Blvd. Great Neck, NY 11020
Appointments: 516-627-8717
Website: https://briancapognamd.com
newsroom: news.38digitalmarket.com

This content is published on behalf of the above source. Please contact them directly for any concern related to the above. 
This press release may contain forward-looking statements. Forward-looking statements describe future expectations, plans, results, or strategies (including product offerings, regulatory plans and business plans) and may change without notice. You are cautioned that such statements are subject to a multitude of risks and uncertainties that could cause future circumstances, events, or results to differ materially from those projected in the forward-looking statements, including the risks that actual results may differ materially from those projected in the forward-looking statements.