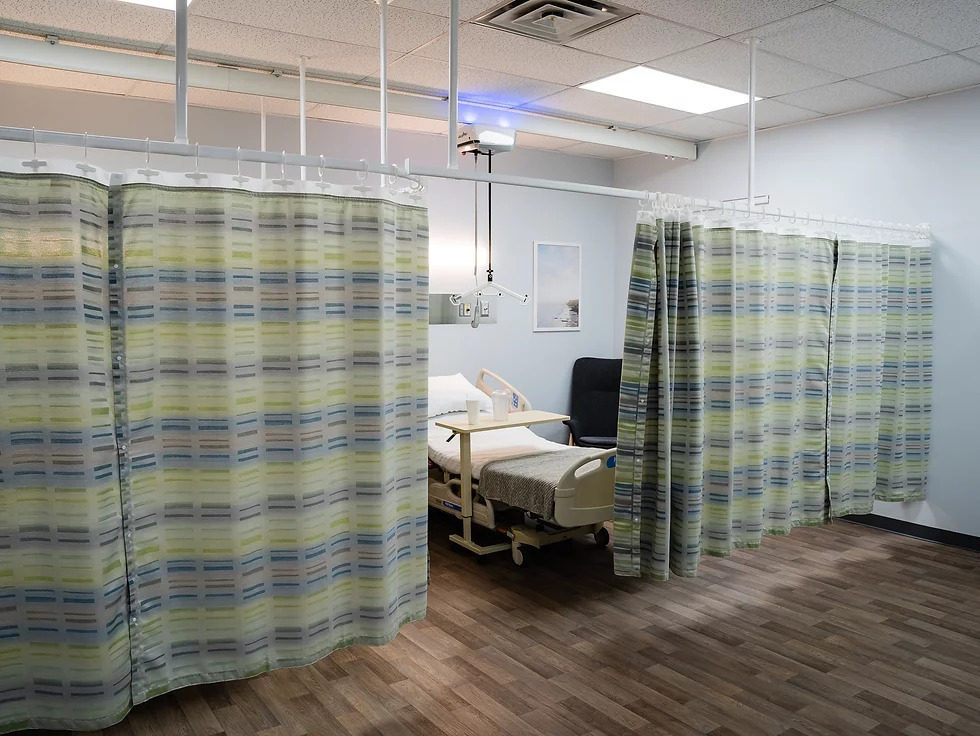 ER Curtain Manufacturer PRVC Hospital Curtain Systems Announce Three New Innovative Cubicle Curtain Systems
PRVC Systems has included three innovative cubicle curtain systems to its extensive curtain line. Cubicle curtain systems are a result of comprehensive research and analysis conducted for ER Curtains
PRVC Systems now offers three innovative cubicle curtain systems to meet the privacy requirements of a broader range of hospital and healthcare center settings. These systems assure patient privacy along with ease of access for healthcare providers and hospital staff.
The three PRVC Cubicle Curtain Systems available for different settings are door surround systems, patient bed systems, and common area systems. Each system is designed keeping in mind the privacy and usage requirements of the patients and their surroundings. A quick rundown of each cubicle curtain system is as follows:
The first, "Door Surround System," promises the functionality and privacy of a traditional ceiling-mounted curtain without the limitations of ceiling-mounted tracks. This allows for more suitable ventilation in the area and the uninterrupted use of common ceiling lights, A.C. vents, smoke detectors, and fire sprinklers.
The second cubicle curtain option is "Patient Bed Systems." These are designed for use in single-bed as well as multi-bed settings. It can be installed in a U-Shape or L-Shape configuration depending upon the placement of beds and architecture of the room without redoing the whole setup. These curtains are also wall-mounted, only requiring ceiling support at a few focal points, thus making them more functional and user-friendly.
The third privacy cubicle curtain design by PRVC systems is "Common Area Systems". These curtains provide invaluable patient privacy in heavy traffic areas such as pre-op and post-op rooms, ERs, Ph. lobotomy rooms, and multi-bed OPD settings.
The PRVC cubicle curtain systems are made entirely in the United States from domestically produced parts. All PRVC curtains feature an antimicrobial finish and meet the standard NFPA701 requirements.
Readers interested in viewing the PRVC cubicle curtain systems and their distinctive features can visit the official website at https://www.hospitalcubiclecurtains.com/. The website also contains video demos of each of its privacy cubicle curtain systems in action, as well as the complete range of all products manufactured by PRVC Systems.
Marc Hatton PRVC Hospital Curtains CEO explained the importance of cubicle curtains, saying, "Privacy curtains are a necessity in healthcare facilities and long-term care homes to protect the privacy and dignity of patients and residents. They are necessary for shared rooms, emergency rooms, pre-op, post-anesthesia care, and intensive care units throughout medical facilities to give patients the privacy they require when receiving medical care and during family visits."
He continued by describing how cubicle curtains from PRVC Systems offer ideal privacy solutions that also meet hygiene and sanitation requirements. "We have developed a system that will meet your needs, whether for a door, a hospital bed, or a challenging patient-lift cubicle curtain conflict. We also noticed that although privacy curtains are notorious for getting frequently touched by people, there is still no rule regarding how frequently they need to be cleaned. PRVC Systems curtains come equipped with laundry cycle alert stickers to help maintain proper hygienic environments."
About PRVC Systems™
PRVC Systems™ is an American brand best known for its all-new innovative PRVC hospital curtain track systems for cubicle and shower curtains. The new systems by the company are designed for easier and faster change-outs. The curtains are designed to not bind on the track, ensuring that they are quieter compared to traditional grommet curtains on the market.
###
Contact:
PRVC Systems
1241 Central Ave Ste 634 Wilmette, IL 60091
(844) 352-5089
https://www.hospitalcubiclecurtains.com/
newsroom: news.38digitalmarket.com

This content is published on behalf of the above source. Please contact them directly for any concern related to the above. 
This press release may contain forward-looking statements. Forward-looking statements describe future expectations, plans, results, or strategies (including product offerings, regulatory plans and business plans) and may change without notice. You are cautioned that such statements are subject to a multitude of risks and uncertainties that could cause future circumstances, events, or results to differ materially from those projected in the forward-looking statements, including the risks that actual results may differ materially from those projected in the forward-looking statements.