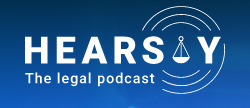 Hearsay, the Legal Podcast Presents a Practical Route to Help Lawyers Obtain CPD Points
Combining Interview-Format Podcast Episodes with e-Learning Multimedia Content for Quick Reference
Hearsay The Legal Podcast is pleased to present a practical way to enable lawyers to obtain their CPD points in the most convenient and flexible way. The process involves combining the interview-format podcast interviews with e-learning multimedia content which are always available for further reference. The episodes on Hearsay are based on an interview format wherein the guests will be asked about their experiences, stories from their career that are worth sharing on this platform, and other details which are very important for aspiring or budding lawyers. The first season of Hearsay Podcasts was an instant hit and had garnered impressive reviews by the experts and those concerned. Guests such as current and former judges, barristers, specialist attorneys, economists, academics, and consultants were a part of the thought-provoking interviews.
Obtaining adequate CPD points are very important in the career of a lawyer. Hearsay The Legal Podcast makes it an easy journey by bringing the content forward in the most unique and engaging manner. These episodes are not just interviews but detailed notes of summary papers, infographics, cases, reports, articles, and a lot more. And it doesn't stop there. At the end of every podcast, there is an e-learning quiz that tests the knowledge of the listeners. The Hearsay platform also tracks the episodes that were reviewed by the listeners and the quizzes completed.
This tracking information will help lawyers check their progress each CPD year and produce a report in case of an audit. Acquiring the mandatory CPD points each year could be quite a task but not if they are engaging, fun, and informative. The podcasts have witnessed a rise in the number of listeners ever since the first episode. It has also gained momentum amongst the lawyer community because these educational podcasts are fascinating and backed by a multimedia platform that allows these lawyers to become CPD compliant in the most effective manner. Australian lawyers can totally rely on Hearsay, the Legal Podcast to satisfy the requirements that come with Continuing Professional Development or CPD.
Lawyers can now claim up to five CPD points per year from Hearsay's audio-only material. To claim more points, lawyers should also interact with other summary materials, references, e-learning modules, notes, etc. Every episode that is featured on Hearsay consists of one different topic. So, lawyers can pick and choose the one that interests them the most and collects points during the process. The e-learning modules consist of 10 questions per episode which are very easy to answer with attentive listening. The best thing about signing up with Hearsay is that members would get to complete the CPD requirements at their own convenience. More than anything, this CPD scheme is totally based on self-assessment and lawyers can improve their knowledge and skills in areas that are relevant to their practice. Hearsay is totally FREE for students.
To know more visit https://htlp.com.au/
About Hearsay The Legal Podcast
Hearsay The Legal Podcast is an exclusive podcast for lawyers and those interested in Law. The legal podcasts feature guests coming from different backgrounds, specialized lawyers, professional advisors, academic professionals, economists, psychologists, and management consultants.
###
Contact
Hearsay The Legal Podcast
Address: Level 3, 63 York Street, Sydney NSW 2000
Phone: (02)8313-6590
Email: [email protected]
Website: https://htlp.com.au/
Publicist: news.38digitalmarket.com
Content Disclaimer:

DISCLAIMER of Liability. IN NO EVENT SHALL OUR PR COMPANY BE LIABLE OR RESPONSIBLE TO YOU OR ANY OTHER PERSON FOR ANY DIRECT, INDIRECT, INCIDENTAL, CONSEQUENTIAL, SPECIAL, OR EXEMPLARY DAMAGES OF ANY KIND, INCLUDING WITHOUT LIMITATION, LOST PROFITS OR LOST OPPORTUNITIES, EVEN IF ADVISED OF THE POSSIBILITY OF SUCH DAMAGES IN ADVANCE AND REGARDLESS OF THE CAUSE OF ACTION UPON WHICH ANY SUCH CLAIM IS BASED, INCLUDING, WITHOUT LIMITATION, ANY CLAIM ARISING OUT OF OR IN CONNECTION WITH ANY OF THE CONTENT, INCLUDING, WITHOUT LIMITATION, AUDIO, PHOTOGRAPHS, AND VIDEOS, OR OF THE ACCURACY, RELIABILITY, OR LEGALITY OF ANY STATEMENT MADE IN OR OMITTED FROM ANY advertisement, sponsorship, endorsement, testimonial, opinion, or other product-related or service-related statement or review appearing in the Websites or in ANY post or article distributed via the Websites.