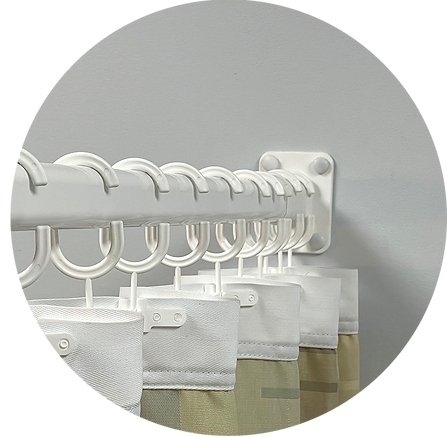 Hospital Curtain Manufacturer PRVC Systems™ Announces the Launch of Its All-New Cubicle and Shower Curtain System
PRVC Systems™ announced that the company was getting ready to launch its all-new cubicle and shower curtain system. The new system will offer better privacy.
One of the challenges for many hospitals is privacy for patients. The smaller and busier the hospital, the more privacy can be an issue. Traditional hospital curtains and cubicles have many issues associated with them, the biggest being privacy. However, PRVC Systems™, one of the leaders in designing and manufacturing hospital curtain track systems and curtains, announced a solution in the form of their all-new cubicle and shower curtain system. The newly designed medical curtain track offers privacy similar to a regular ceiling-mounted track. Additional benefits and a couple of new features include easy installation of the tracks without the prospect of damaging the ceiling, fire sprinklers, AC vents, and lights.
The new system also includes what PRVC Systems™ likes to call the Patient Bed System, which is then placed around either one bed or multiple beds, using an L-shape of U-shape design. Since the hospital tracks aren't ceiling-mounted, they can be repositioned as needed to offer the greatest privacy while still being the most functional. According to the company, the new system can be used in areas such as Phlebotomy, Pre-Op, Post-Op, Emergency, and other wards where there are multiple people occupying the room.
PRVC Systems™ has said that while the new system is an easy solution to a problem faced by many hospitals, it is also a cost-effective approach that is easy to deploy anywhere. Even though the system is designed mainly for hospitals, it can be used in any place where privacy is needed amongst multiple patients or people occupying the same space in a variety of facilities.
Readers can learn more about the new PRVC Systems™ Cubicle and Shower Curtain System by visiting the brand's official website at https://www.hospitalcubiclecurtains.com.
"At PRVC Systems™, we are looking for simple solutions to some of the most common problems. Many of the solutions we find that become part of our products make life not just for people in the hospital easier but can be scaled and used in just across any industry. Our solutions apply to bathroom showers, various types of public areas, and any place that needs to be segregated for a number of reasons. We use designer cubicle curtain fabric from all the leading fabric mills in the Chicago area. In fact, our curtains meet stringent NFPA 701 fire retardant certifications, in addition to offering the most antimicrobial protection, which is what makes them perfect for hospitals and nursing homes." Said a representative for PRVC Systems™
She added, "We also sell several accessories for shower and cubicle curtains, which can be used for curtain conflict resolution and patient lift cubicles. All our products are of the highest quality and put through stringent quality control. In addition, all our products are all manufactured in the USA. That's why you can be assured of excellent quality regardless of what you buy."
About PRVC Systems™
PRVC Systems™ is an American brand based out of Chicago, best known for its all-new PRVC systems for cubicle and shower curtains. The new systems by the company are designed for easier and faster change-outs. The curtains are designed to not bind on the track, ensuring that they are quieter compared to traditional grommet curtains on the market.
###
Contact:
PRVC Systems
1241 Central Ave Ste 634 Wilmette, IL 60091
(844) 352-5089
https://www.hospitalcubiclecurtains.com/