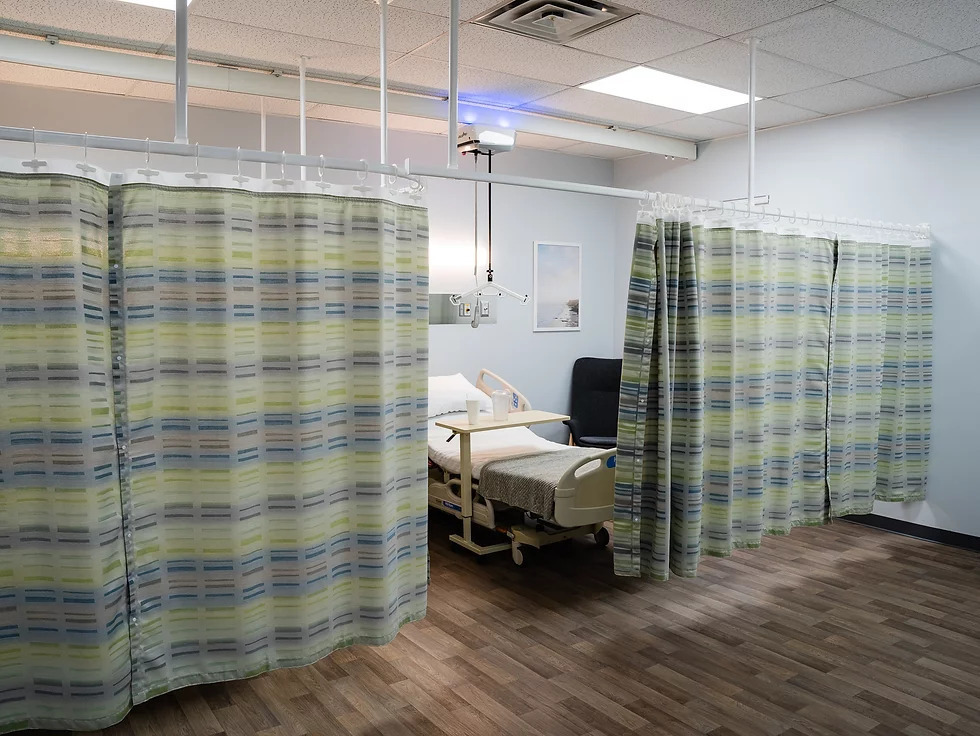 Hospital Curtains Manufacturer PRVC Systems Expands Curtain Fabric Selections
PRVC Systems is expanding its hospital curtain fabric selections for cubicles, disposable, and shower curtains.
PRVC Systems, the leading manufacturer of hospital curtains, has announced an exciting expansion in the style selection of hospital curtain fabric for its PRVC curtain line. These new fabrics are intended to make PRVC curtain assembly and usage more aesthetically pleasing and user-friendly. PRVC Systems currently has a wide variety of curtain fabrics, including the Avenue Montaigne, Disposable Curtain Fabric, Vinyl Shower Curtains, and many more.
PRVC Systems is one of the few brands that have, over the years, consistently maintained the high standards of its curtains in terms of their material, appearance, and length to suit the patient's needs and the health institution's design. All PRVC's curtains are antibacterial and fireproof, as required by NFPA 701. Fabrics from Canyon X, Aquarius, Komichi, New Shadow Cube, Rue Clear, and Mori X are some of the most popular choices for making PRVC curtains.
Medical Centers and private clients can select from a wide variety of fabrics when using PRVC products. The first curtain style is a variety of tone-on-tone fabric for cubicle curtains, which offer flexibility in terms of matching the building's existing interior design and vibe. These tone-on-tone curtains are available in many colors, featuring hues from dark brown to lighter, earthier shades. Another style option is curtains featuring solid tones with a subtle self-print layout design. These curtains are excellent for use in shared bedrooms to solve privacy issues and in smaller facilities with outpatient departments.
PRVC Systems use polyester and vinyl fabrics to make shower curtains. The fireproof and water-resistant curtains made of polyester cloth have lighter shades and self-printing, while the vinyl shower curtains come in both dark and lighter shades. PRVC's shower curtains line also helps prevent the growth of bacteria and other germs.
"When selecting the fabric and color of the PRVC curtain, it is important to consider both the patient's privacy concerns and the decor of the healthcare facility. The new expansion in the PRVC curtains line is an answer to both these problems. All PRVC curtains have an antibacterial layer and meet the standards for fire resistance set out by NFPA 701. And we are pleased to share that all the material used in manufacturing our curtains is sourced from well-known American fabric manufacturers." Stated a PRVC Systems' representative.
He added, "Quality of product is never compromised at any point. "We are always looking for ways to further improve our curtain line. The PRVC Systems produces innovative patented designs using quality materials and resource-efficient methods to create the best products. Our curtains are the perfect solution for any application that requires a cubicle curtain, such as medical and dental offices, schools, and homes."
Readers can contact the PRVC Systems representative via phone call to get samples of chosen fabrics for client review. To learn more about the PRVC Systems curtain line, visit the official website at https://www.hospitalcubiclecurtains.com/ .
About PRVC Systems™
PRVC Systems™ is an American brand best known for its all-new PRVC systems for cubicle and shower curtains. The new systems by the company are designed for easier and faster change-outs. The curtains are designed to not bind on the track, ensuring that they are quieter compared to traditional grommet curtains on the market.
###
Contact:
PRVC Systems
1241 Central Ave Ste 634 Wilmette, IL 60091
(844) 352-5089
https://www.hospitalcubiclecurtains.com/
newsroom: news.38digitalmarket.com

This content is published on behalf of the above source. Please contact them directly for any concern related to the above. 
This press release may contain forward-looking statements. Forward-looking statements describe future expectations, plans, results, or strategies (including product offerings, regulatory plans and business plans) and may change without notice. You are cautioned that such statements are subject to a multitude of risks and uncertainties that could cause future circumstances, events, or results to differ materially from those projected in the forward-looking statements, including the risks that actual results may differ materially from those projected in the forward-looking statements.