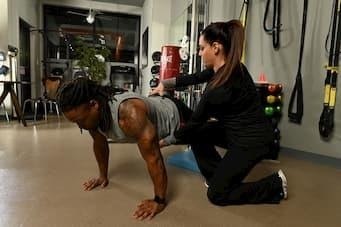 In Motion Physical Therapy Publishes an eBook on Playing Injury-Free Tennis
Dr. Lauren Schnidman's eBook "6 Essential Tips For Pain-Free Tennis" was recently published by In Motion Physical Therapy. Dr. Schindman is a leading expert in sports injuries.
In Motion Physical Therapy is one of the most reputed physical therapy centers in Chicago for sports injuries and other problems related to the impairment of routine body motions and pains. Dr. Lauren Schnidman, the founder and lead doctor at In Motion Physical Therapy, has published an eBook available on the company's website. The eBook, titled "6 Essential Tips for Pain-Free Tennis", is the product of Dr. Schnidman's long experience treating several tennis players and of her love for the game.
The eBook is a manual for recreational and professional tennis players who want to pursue the game for the rest of their lives but do so without any injuries and body aches. The eBook opens with an introduction to why tennis players need to follow the advice shared in the books and the benefits they will reaping by heeding the advice in it. Next, the book delves into the six proven strategies that all tennis players should include in their routine to play a pain-free and injury-free game.
A brief overview of the strategies is as follows:
Strategy No. 1: Stretch
Stretching is the most basic yet important exercise. Dynamic stretching is the preferred approach, since it allows joints and muscles to go through their complete range of motion before the game.
Strategy No. 2: Strengthen
Strength training decreases joint tension, the possibility of injuries, and other related diseases. It also allows the body to perform better during the game and boosts the intensity of strikes, while enhancing dexterity and speed when playing.
Strategy No. 3: Cross-Training
Aside from tennis, the book recommends including other athletic activities in the daily regimen. The practice is referred to as cross-training.
Strategy No. 4: Make Sure To Have The Right Equipment
Invest some time and resources in testing various racket and string tension combinations to discover the perfect setup. It can help players handle the equipment securely and therefore play better.
Strategy No. 5: Get Help from A Coach!
Tennis injuries are frequently caused by inadequate technique. A competent and qualified coach can assist in identifying those faults in the technique and help take corrective actions.
Strategy No. 6: Get An Evaluation From A Physical Therapy Specialist
Last but certainly not least, get evaluated by a physical therapy specialist. Specialists can help players comprehend movement patterns with a more thorough and holistic approach. Therapists also assist in identifying parts of the body where movement is inhibited, or stability in muscles is compromised. Dr. Lauren Schnidman is a Tennis Performance Specialist (CTPS). Her history as a tennis player, along with her years of expertise as a CTPS allowed her to develop specific treatment regimens that helps patients see much better results.
To more details about the recommendations are available in the book which can be downloaded from the In Motion Physical Therapy's official website: https://inmotionptchi.com/. Just fill out a small form and get the free book titled "6 Essential Tips For Pain-Free Tennis".
About In Motion Physical Therapy
In Motion Physical Therapy is on a mission to provide top-quality physical therapy services, helping patients return to doing the activities they love. The company works with tennis players, runners, and people who want to lose weight. Located in Lincoln Park, the company provides excellent quality care for patients to get back on their feet.
In Motion Physical Therapy
2731 N Lincoln Ave
Chicago, IL 60614
(773)236-2256
newsroom: news.38digitalmarket.com

This content is published on behalf of the above source. Please contact them directly for any concern related to the above.