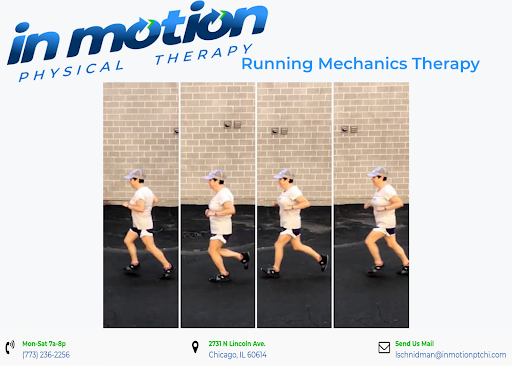 In Motion Physical Therapy Weighs In On Running Apps And Wearables
Renowned Physical Therapy practice in Chicago helps people make the right choice
In Motion Physical Therapy, the highly regarded Physical Therapy practice in Chicago, has unveiled an insightful article that helps people make informed choices when choosing from a wide range of running apps and wearables.
In Motion Physical Therapy, specializing in Sports Therapy has become the go-to practice for people struggling with injuries and other conditions. They want to get back to activities they love the most. Helmed by experienced professionals, and experts in the field, the small practice based out of Lincoln Park has come to be known for exceptional care and empathetic service. Notably, their Holistic Physical Therapy services have helped patients recover and regain full function.
The glowing patient reviews In Motion Physical Therapy has received testify to their effectiveness. The practice specializes in working with runners, tennis players, and all individuals, who want to lose weight. Running apps and, fitness trackers have gained massive popularity among them. Unfortunately, due to the wide range of choices available in the market, finding the best option can become overwhelming. That's where this article has its advantages, offering crucial insights to readers interested in running apps and wearables.
The article, written by well-known Certified Physical Therapist Dr. Lauren Schnidman, encourages readers to identify their running goals immediately. People could be running in their neighborhood every day or training for a 5K or a marathon, the role of running apps must be considered. Since they offer real-time feedback to runners, setting goals at the onset is crucial. Running apps then offer people a sense of satisfaction and an extra dose of motivation to keep getting better.
The article also sheds light on how various running apps use different metrics to track short-term and long-term progress. People can adjust their running styles and speed with the information they can get from them. They may choose to run longer if they want to, based on the evolving goals they set for themselves. But In Motion Physical Therapy also asserts that besides these goals, people should always think about avoiding running injuries as they progress on their fitness path.
The article looks at popular options in great detail to help people choose from various running apps and wearables. Known for high Performance Physical Therapy, the practice has focused on different parameters to determine the overall performance of these options. In fact, the data is also presented in an easy-to-follow chart for the benefit of readers. Strava, Asics Runkeeper, Garmin, Nike Run, and Apple Watch are the options that are discussed at length in the article.
In Motion Physical Therapy has applied crucial metrics like real-time cadence, cadence upon completion, real-time pace, average pace upon completion, accuracy, manual or automated pausing, stride length, elevation, music, and total distance to draw careful and objective comparisons for the benefit of readers.
To learn more about these running apps and wearables, and learn about the services offered by the practice, visit https://inmotionptchi.com/running-apps-and-wearables-which-one-is-right-for-you/
About In Motion Physical Therapy
In Motion Physical Therapy is on a mission to provide top-quality physical therapy services, which help patients return to doing the activities they love. The company works with tennis players, runners, and people who want to lose weight. Located in Lincoln Park, the company provides excellent quality care for patients to get back on their feet.
###
In Motion Physical Therapy
2731 N Lincoln Ave
Chicago, IL 60614
(773)236-2256
newsroom: news.38digitalmarket.com