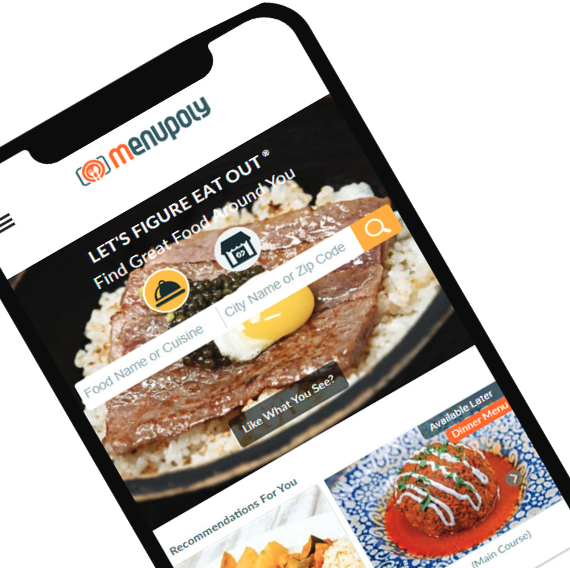 Introducing MENUPOLY Next-Gen Digital Ordering for Restaurants
Backed by FREE Cloud-based POS System with Online Ordering & Table Ordering
Introducing MENUPOLY next-gen digital ordering, a FREE innovative food ordering & payment service for restaurant businesses. There are many food ordering apps out there these days, but what makes MENUPOLY different is: 1) It is absolutely FREE for restaurants: no commissions, no monthly fees, and 2) It is super easy for people to use thanks to its intuitive and visual menu design, no app download, and no user login features. The platform helps restaurant owners save money and overcome some of their most common and pressing business challenges, aggravated after the COVID breakout. Staff hiring and customer marketing have always been known among the top barriers to restaurant success. COVID has made labor shortage and employee turnovers so pervasive in the industry that many restaurants currently deal with the pressure of higher staff wages and excessive recruiting and training costs while compromising their business bottom line by cutting down their operating hours.
So what can MENUPOLY do for the restaurant owners? MENUPOLY offers innovative digital ordering and unique digital marketing services, specially designed for restaurant businesses. The novel table ordering service lets restaurants operate with fewer servers. Diners can use their phone to tap a disc on their table to view the visual menu, open a tab, and pay at the end of their meal. This is at no cost to the restaurant, but customers pay a fixed small convenience fee per order. Restaurants save expenses on waitstaff wages and training, POS system, paper menus, and access to an online dashboard to instantly update menus hassle-free. The platform's visual and intuitive user interface minimizes staff training required to make the system fully operational at the restaurant.
MENUPOLY also offers a unique digital marketing product for restaurant success. Their elegant visual menu kiosks can be placed outside of restaurants in high-traffic areas to convert passers-by into diners within minutes. People increasingly make decisions about what to buy and where to get it using visuals they see every day. MENUPOLY interactive displays enable restaurants to exhibit their menu and showcase their dishes and signature cocktails to engage passers-by and entice new customers into the restaurant.
What's in it for the diners? Restaurant guests can eliminate the hassles of online/table ordering when they use MENUPOLY. They are not required to download and install another app on their phone or go through a user login or payment info input process each time they want to place an order. They do not need to wait for their server to bring the check, take their credit card to process, and bring back a receipt at the end of the meal. Additionally, MENUPOLY visual menus make it easy for people to decide what - and where - to eat by seeing what the dish would look like beforehand.


To learn more, visit https://www.menupoly.com/Restaurant

About MENUPOLY, Inc.
MENUPOLY is the maker of an intuitive, easy-to-use platform that connects restaurant businesses to their customers by offering digital ordering and marketing services. The company strives to address some of the top challenges to restaurant success while helping restaurant-goers decide what - and where - to eat. MENUPOLY is currently active in the District of Columbia and Maryland and plans to expand across the county soon.
###
Contact
MENUPOLY, Inc.
Phone: +1-855-550-6368
Email: [email protected]
Website: https://www.menupoly.com
newsroom: news.38digitalmarket.com

This content is published on behalf of the above source. Please contact them directly for any concern related to the above. 
This press release may contain forward-looking statements. Forward-looking statements describe future expectations, plans, results, or strategies (including product offerings, regulatory plans and business plans) and may change without notice. You are cautioned that such statements are subject to a multitude of risks and uncertainties that could cause future circumstances, events, or results to differ materially from those projected in the forward-looking statements, including the risks that actual results may differ materially from those projected in the forward-looking statements.