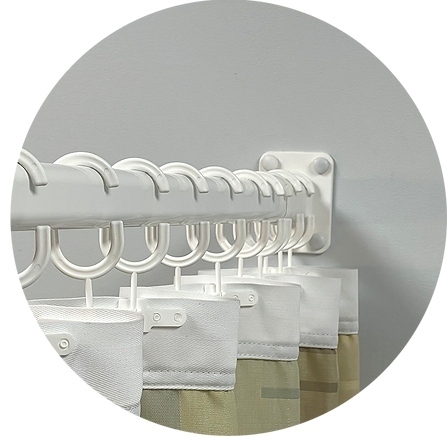 Leading Manufacturer of Cubicle Curtain Systems Announces Their New Patient-Lift Cubicle Curtain Conflict Systems
PRVC Systems™ announced that the cubicle curtain systems and the patient lift cubicle curtain conflict systems are available for sale.
PRVC Systems™ has finally announced the launch of its Cubicle Curtain Systems and Patient-Lift Cubicle Curtain Conflict Systems. According to the company and based on what was demonstrated, both systems make adding privacy for patients at the hospital and moving them around immensely simple. Not only are the solutions simple, but setting them up does not do any damage to the ceiling, AC vents, or any other area. If needed, the cubicle curtain systems can be easily moved, plus, if required, multiple systems can be installed under a single roof or in the same room.
The newly designed system also includes a patient bed system, making it easier for the curtains to be placed around multiple beds or one bed. The curtains use either a U-shaped or L-shape design. Plus, since the system is not ceiling-mounted, they are easy to reposition, offering the best possible privacy for everyone. The new system, according to PRVC Systems™, can be used in Phlebotomy, Pre-Op, Post-Op, Emergency, and other wards. It can also be an extremely useful system in places like nursing homes where there are multiple patients being housed.
Readers can learn more about the new PRVC Systems™ Cubicle and Shower Curtain System by visiting the company's official website at https://www.hospitalcubiclecurtains.com.
"Many hospitals and nursing homes, in addition to many other places, can be served better by a privacy solution that's simple, easy to install, and does not cost a lot of money. In fact, a bonus is the equipment is lightweight and can be easily installed in a space of any size and for any purpose. That's where our Cubicle and Shower Curtain System comes in. Unlike other systems, it can also be used as Patient-Lift Cubicle Curtain Conflict Systems. It is easy to install, lightweight, and requires absolutely no training. The system can be deployed and set up within minutes. If anything, it is an indispensable tool especially for the COVID patients in the medical industry, where there is a need to quickly deploy a privacy system to perform a procedure to provide a patient with urgent medical attention." Said an executive at PRVC Systems™.
She added, "PRVC Systems™ is proud of the fact that the solution we offer is so simple and yet so immensely effective. Additionally, our curtains are made from high-quality fabric that offers both privacy and protection from bacterial elements. If anything, that's another reason why this technology is so well suited for the medical industry. However, in our experience and during our time testing it, the Cubicle and Shower Curtain System can be used anywhere there is a need for privacy, but where modifications to the structure of the room can't be made to accommodate it."
About PRVC Systems™
PRVC Systems™ is an American brand best known for its All-new PRVC systems for cubicle and shower curtains. The new systems by the company are designed for easier and faster change-outs. The curtains are designed to not bind on the track, ensuring that they are quieter compared to traditional grommet curtains on the market.
###
Contact:
PRVC Systems
1241 Central Ave Ste 634 Wilmette, IL 60091
(844) 352-5089
https://www.hospitalcubiclecurtains.com/
This content is published on behalf of the above source. Please contact them directly for any concern related to the above. 
This press release may contain forward-looking statements. Forward-looking statements describe future expectations, plans, results, or strategies (including product offerings, regulatory plans and business plans) and may change without notice. You are cautioned that such statements are subject to a multitude of risks and uncertainties that could cause future circumstances, events, or results to differ materially from those projected in the forward-looking statements, including the risks that actual results may differ materially from those projected in the forward-looking statements.