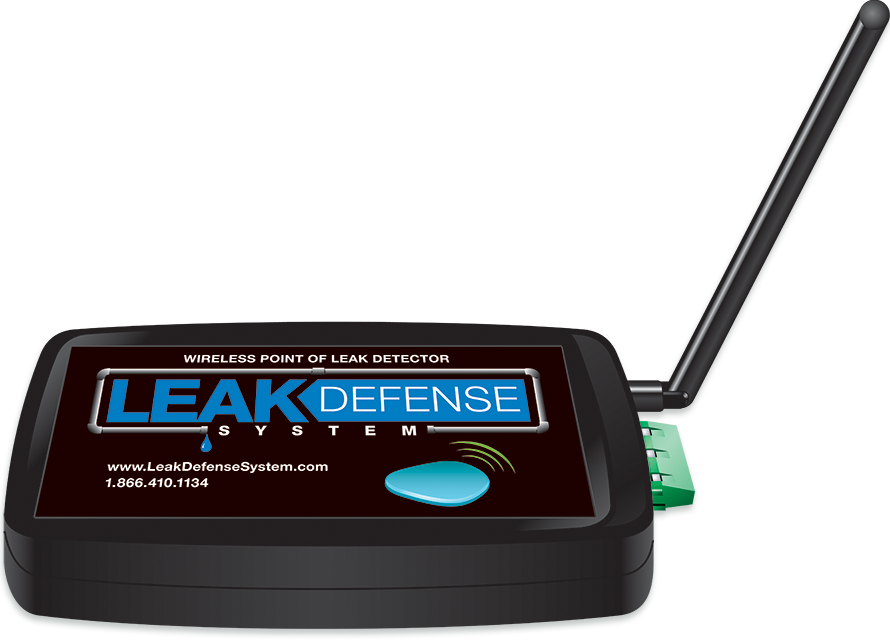 Leak Defense System Features the Point of Leak Detector (POLD)
Protecting Homes from Catastrophic Plumbing Leaks. Also useful in High-Rise Condos, Retail Spaces, Healthcare Facilities, Commercial Buildings, and Others
ESCONDIDO, CALIFORNIA - 12th November 2020 – Leak Defense System, the leaders in electronic flow sensing technology, is pleased to present Leak Defense Point of Leak Detectors (P.O.L.D.). The electronic leak detectors are designed specifically to alert individuals in case of a plumbing leak. The device is exactly the size of a credit card and can be put under a sink, next to the hot water heater, washer, dryer, or the water filtration system. The device sounds an alarm as soon as it detects moisture. Those around will be alerted with an alarm sound and they can stop the damage before it even starts. The multi-point electronic leak detector can be placed in areas where there is a higher risk of plumbing leaks. 
Appliances and fixtures can develop blockages or spring leaks which can lead to serious flooding when left unattended. These detectors do a wonderful job with their alert system. They sound an audible alarm and send a message to the homeowners or the monitoring company alerting them about the leak. Refrigerators, dishwashers, water heaters, washing machines, and toilets are the most common appliances which are prone to leakages. The electronic leak detectors are ideal for residential properties, apartments, condos, commercial properties, healthcare facilities, retail spaces, etc. The Point of Leak Detector is a practical way to protect the homes against catastrophic leaks. "This system is terrific. It limits water waste when I'm home and gives me peace of mind when I'm away from home," says a happy customer. 
For those who are unsure about where to place the leak detectors, the Leak Defense System design team is readily available to custom fit a system that best serves the home or property. Leak Defense System has designed the Point of Leak Defense Product because it is their primary goal to prevent terrible leaks in properties irrespective of the size. The best thing about this device is that there is no plumbing required. Just set it and forget it. The POLD communicates wirelessly and since it is battery powered, it can be used anywhere. It can also be plugged in wherever there is availability. It silently sits near the laundry rooms, toilets, under the sink, or any place that is prone to water leaks. It is a stand-alone device that can be seamlessly integrated into other components of the Leak Defense System. The system provides higher levels of protection to the entire house. The system can be pre-synced with the control panel and alerts will be automatically sent to the mobile app for easy monitoring. 
To learn more visit https://leakdefensesystem.com/point-of-leak-detector/ 
About Leak Defense System 
Leak Defense System offers the proprietary electronic flow sensing technology for water conservation and leak protection. They offer customized protection solutions, whole house protection, Point of Leak Detectors or POLD, and water sensor rope solutions for residential homes, stacks/risers, and commercial properties. Founded in 2005, this company also won the prestigious award by Imagine H20 and also has 7 industry-leading patents. The Leak Defense System is so trusted that many national insurance companies offer discounts for homeowners for installing it on their property. 
###
Contact
Leak Defense System
Address: 1223 Pacific Oaks Place Suite 104, Escondido, CA 92029
Phone: 866.410.1134
Email: [email protected]
Website: https://leakdefensesystem.com/
Disclaimer: The information does not constitute advice or an offer to buy. Any purchase made from this story is made at your own risk. Consult an expert advisor/health professional before any such purchase. Any purchase made from this link is subject to the final terms and conditions of the website's selling. The content publisher and its distribution partners do not take any responsibility directly or indirectly.  If you have any complaints or copyright issues related to this article, kindly contact the company this news is about.