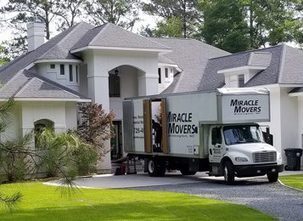 Miracle Movers of Charleston Announce Personalized Free Moving Estimate
Rated #1 Movers in Charleston for Over 6 Years for Best-in-Class Home and Business Moving
Miracle Movers of Charleston are pleased to share that they are now offering personalized free moving estimates. There are a lot of benefits when a mover provides in-house estimates. These quotes are accurate as the movers visit the home and take every detail into account. They also assess if there are any specialty items involved, whether they need additional packing, and any special requirements for moving them. Customers will get a quote with all the details with regards to moving, packing and any other special requirements they might have. What they see on the quote is what they pay and there are no surprise charges whatsoever. This transparency and honesty is what made Miracle Movers of Charleston, the leading moving company for years together.
The company takes pride in exceeding its customer expectations with each and every move. A major part of the reason is none other than the team that works relentlessly to make it a stress-free experience for each and every customer who decides to hire Miracle Movers in Mt Pleasant, Summerville, Charleston, or any other location. These movers are professionally trained as well as background verified which gives the customers peace of mind that their belongings are in safe and efficient hands. The movers also ensure that the entire moving process is conducted smoothly from start to finish with no delays or hiccups.
The movers in Summerville, Mt Pleasant, and Charleston also specialize in long-distance moving services. With long-distance moves, it is always a concern for customers. They are always worried about whether or not their personal belongings are handled well especially with so many hours in transit. Miracle Movers in Mt Pleasant always give an assurance that the cargo will be safe and secure throughout the journey and that customers will be able to track the truck or call customer service for the latest updates. For these movers, speedy and safe delivery of their customers' belongings always takes the top priority.
Miracle Movers in Mt Pleasant, Summerville, Charleston, and several other locations also offer business moving services. They have decades of experience performing local moves and they are well-trained on best moving practices to ensure that the items related to the business or office are handled and transported safely. They use extra padding and stretch wrapping wherever needed and are securely loaded onto the neat and well-maintained 26 ft. moving trucks. The Charleston movers can move any property whether it is a small house or an apartment, high-rise condo, or office building. The teams operate with the highest level of care backed by the necessary tools and equipment to get the job done right.
To learn more visit https://www.miraclemoversusa.com/reviews
About Miracle Movers of Charleston
Miracle Movers of Charleston are the top-rated movers offering full-scale home and business moving services both local and long-distance. They are licensed, bonded, and insured and operate on their own logistics including a team of full-time movers.
###
Contact
Miracle Movers of Charleston
150 Ivy Green Way, #1526, Charleston, SC 29414
Phone: 843-595-8497
Website: https://www.miraclemoversusa.com/charleston-location
There is no offer to sell, no solicitation of an offer to buy, and no recommendation of any security or any other product or service in this article. Moreover, nothing contained in this PR should be construed as a recommendation to buy, sell, or hold any investment or security, or to engage in any investment strategy or transaction. It is your responsibility to determine whether any investment, investment strategy, security, or related transaction is appropriate for you based on your investment objectives, financial circumstances, and risk tolerance. Consult your business advisor, attorney, or tax advisor regarding your specific business, legal, or tax situation.