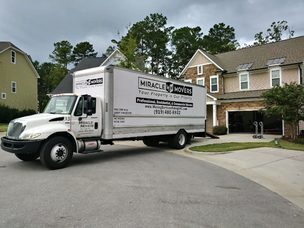 Miracle Movers of Sanhills and Aberdeen-Pinehurst Expand Services with Free Moving Estimate
High-Quality Moving Services with Special Military Discounts
Miracle Movers in Aberdeen-Pinehurst are pleased to share that they have expanded service areas and are also offering personalized free moving estimates for home and business moving. These local movers in Fayetteville, Sandhills, and other locations have been offering top-notch residential moving services for apartments, condos, military homes, senior homes, and many more. Customers can now sit back and relax why these movers do what they are best at. The company takes pride in its moving crew, logistics, and well-maintained trucks. All these put together help Miracle Movers offer quick and efficient moving services. And during all these tasks, customers can be assured that their belongings are in safe and capable hands. From the time the things are being packed and loaded till the time they are being unloaded, the items will remain safe and intact at all times.
A lot of customers try to handle the moves all by themselves. As a result, they get very stressed, spend a lot of weekends doing their packing and organizing chores, and are also injured during the process. And as they lack the necessary equipment, they might also damage the property, stairs, flooring, walls, furniture, etc. It could prove to be a very long as well as a messy move. This is the case in a majority of the personally handled moves. Miracle Movers in Pinehurst-Aberdeen always suggest their customers call the professionals and avoid all the stress. They could also benefit from a personalized free moving estimate and understand where they can save a few bucks.
Local move or long-distance move, the stress levels remain the same given the packing, organizing, and settling down in the new location. These movers in Pinehurst, Fayetteville, and Sandhills are dedicated to making it effortless for their customers. The most concerning question for any customer is what if their valuables get damaged or lost on the way? This shouldn't be a worry at all as this moving company is licensed, bonded, and insured. They are also knowledgeable, experienced and have developed a strong network over the years to make each and every long-distance move a successful and satisfactory one.
The long-distance moves in Aberdeen are conducted very meticulously by these leading movers in North Carolina. They take into consideration several other factors that can affect the move such as packing, sorting, labeling, sealing, moving, loading, transportation and unloading. Every box that is lifted is lifted with utmost care and caution. They don't just take the burden off their customer's shoulders but they take the stress off their minds as well. They follow a simplified approach towards every move so that all the parties have a clear understanding of their roles and responsibility.
To learn more visit https://www.miraclemoversusa.com/aberdeen-pinehurst-location
About Miracle Movers of Sandhills
Miracle Movers Sandhills, Pinehurst, Aberdeen, and Fayetteville are professional movers offering full-scale home, business, and long-distance moving services.
###
Contact
Miracle Movers of Sandhills
170 Mayer Rd Cameron NC 28326
Phone: 843-595-8497
Website: https://www.miraclemoversusa.com/aberdeen-pinehurst-location
There is no offer to sell, no solicitation of an offer to buy, and no recommendation of any security or any other product or service in this article. Moreover, nothing contained in this PR should be construed as a recommendation to buy, sell, or hold any investment or security, or to engage in any investment strategy or transaction. It is your responsibility to determine whether any investment, investment strategy, security, or related transaction is appropriate for you based on your investment objectives, financial circumstances, and risk tolerance. Consult your business advisor, attorney, or tax advisor regarding your specific business, legal, or tax situation.