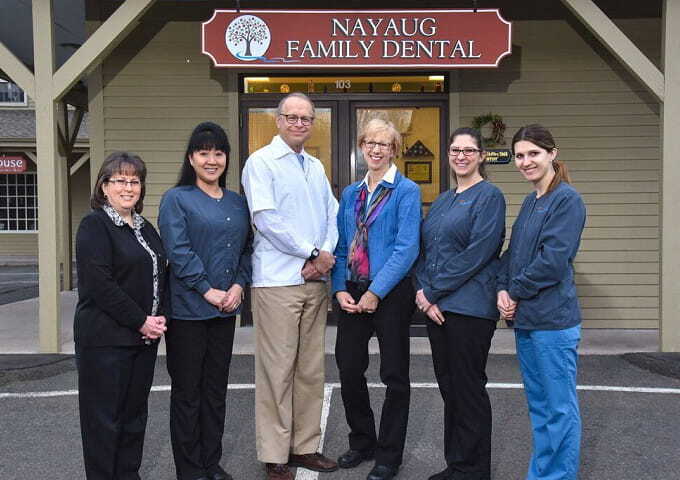 Nayaug Dental, Leading Dental Clinic in Glastonbury for Over 40 Years
Nayaug Dental offers many types of dentistry in Glastonbury, CT.
Nayaug Dental, one of the oldest dental clinics in Glastonbury, CT, is pleased to share that it has new dentistry content to explain various dental procedures to it's patients in Glastonbury. The dentist's website is updated with all its dentistry specializations and services. With the help of its new website, it wishes to make dental appointments easy and convenient. Dental patients can now book an appointment online, make a payment, write and read real patient reviews, get details about dental insurance and payment plans, and much more.
Info on the dental practice: this dentist in Glastonbury's dental office has offered dental services for more than 40 years, making it one of the oldest dental care providers in the community. Nayaug Dental's patients belong to all age groups. Its oldest patients are about 90 years old, and the youngest are about one year old. It has some of the most loyal patients, who have been consulting them and smiling for decades. Here at Nayaug Dental, customers can be assured of getting quality care from a trusted dentist in Glastonbury, Sidra Yaseen, DDS.
Dr. Yaseen attended the University of Pacific Arthur A. Dugoni School of Dentistry in San Francisco and completed a general practice residency at the Staten Island University Hospital. The experienced DDS helps patients with emergency dental care and the necessary follow-up dental treatments. From teeth fillings to root canals, tooth extractions to other types of dentistry, this friendly dentist in Glastonbury and the staff will take great care of patients throughout the process. As part of its preventive Glastonbury dentistry services, the clinic offers dental cleanings and digital X-rays.
Nayaug Dental is experienced with dental patients of all ages. The Nayaug Dental staff ensures that children are comfortable during dental practice visits. Every child is different, and so is their dentistry need or dental condition. The dentist's services are tailored according to the child's needs. The practice uses child-sized x-ray equipment designed for children to make diagnoses easy. As part of its general Glastonbury dentistry services, the clinic offers dental fillings, crowns and bridges, root canals, tooth extractions, dental implants, and full and partial dentures. The clinic also offers an in-office membership plan to help people stay up-to-date with their preventive care and not miss their regular visits due to finances. Patients can also avail of payment plans in easy monthly installments. The clinic also accepts major insurance plans and most Medicare Advantage plans.
To learn more about the dental office, https://www.nayaugdental.com/.
About Nayaug Family Dental
Nayaug Family Dental has been offering quality dental care for residents of South Glastonbury and surrounding communities for more than four decades. Started in 1980 by Dr. Brain Chiffer, this clinic is now being steered by Dr. Sidra Yaseen, DDS. Patients have come here for generations as they believe Nayaug Dental has never failed to offer top-of-the-class dental care tailored to their needs and conditions.
###
Media Contact
Sidra Yaseen, DDS – Nayaug Family Dental
Address: 875 Main Street, South Glastonbury, Connecticut 06073
Phone: 860-633-6167
Website: https://www.nayaugdental.com/
Sidra Yaseen, DDS – Nayaug Family Dental