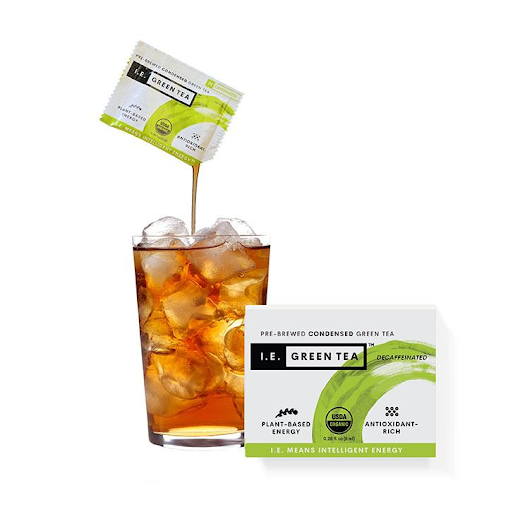 Organic Decaffeinated Green Tea Benefits Answered by I. E. Green Tea
Organic decaffeinated green tea company, I.E. Green Tea, responds to FAQ's by green tea enthusiasts by providing answers regarding the benefits of organic decaffeinated green tea
I.E. Green Tea, an organic decaffeinated green tea company, has reached out to tea enthusiasts and answered many of their questions about organic decaffeinated green tea. These answers shed light on all the health benefits people should expect from their daily cup of green tea and its nutritional value. Readers will also get a full view of the EGCG, catechin, and caffeine content of not only decaffeinated I. E. Green Tea but also a couple of other popular green tea brands currently available on the market.
The term "certified USDA organic" is defined specifically for the benefit of readers. The National Organic Program (NOP) of the United States Department of Agriculture has strict requirements for any product sold as "Certified Organic" in the U.S. A brand must follow all aspects of organic farming to be labeled organic; this includes processing, transportation, and even packaging. Green tea manufacturers have to comply with NOP regulations. That means no sewage sludge, synthetic pesticides, herbicides, fungicides, antibiotics, growth hormones, or artificial fertilizers can be included at any point in the production process.
Decaffeinated organic green tea is ideal for people who want to get all the health benefits of green tea without the jitters and side effects of caffeinated beverages. It is important to note that no decaffeinated drink is 100 percent caffeine free; it just contains the minimum possible amounts of caffeine needed without doing away with the beneficial parts of the tea. The organic decaffeinated green tea by I. E. Green Tea has 111 mg EGCG and 300 mg catechin, with less than 20 mg of caffeine per serving. This organic decaffeinated green tea has the highest concentration of antioxidants of any green tea, which is excellent news for those seeking organic green tea without the side effects of caffeine.
Readers interested in learning more about the benefits of organic decaffeinated green tea can visit the company website at https://iegreentea.com. The website also shares eye-opening facts regarding the nutritional values of key components that make green tea a healthy beverage.
"We introduced a variety of flavors in our decaffeinated green tea product line to keep the flavor buds of all customers satisfied," said an I. E. Green Tea company representative about their green tea products. He added, "Presently, the flavors available include the classic pure green tea, lemon, peach, and raspberry. These flavors complement the accompanying ingredients, making them a great healthy element in various beverages. The decaf I. E. Green Tea is also available in pre-brewed, liquid, single-serving packets that come in eight servings per box. This is the perfect cup of healthy tea for tea lovers, health buffs, and those looking for a quick boost of healthy energy to keep up with their hectic lifestyles."
About I.E. Green Tea
I.E. Green Tea sells a brand of superior quality liquid green tea in concentrated packets, known for offering many health benefits. The brand prides itself on selling the best green tea out on the market, which offers all of the health benefits advertised and at a competitive price.
To find out more about I.E. Green Tea, its benefits, how the brewing process came about from years of trials and partnerships with tea experts, and where the tea comes from (as a hint: note that it is an exclusive mountain that provides nutrient-rich minerals), visit the website at IEgreentea.com.
IE Green Tea is a green tea producer based in Chicago Illinois, the parent company is Amica Tea Texas 8000 Research Forest Dr, The Woodlands, TX 77382 Phone: 832-656-7759
David Stone is the CEO of IE Green Tea you can contact him at:
CEO
I.E. Green Tea
707 Skokie Boulevard Suite 100
Northbrook, IL 60062 Ph:(855) 232-3121
newsroom: news.38digitalmarket.com

This content is published on behalf of the above source. Please contact them directly for any concern related to the above. 
This press release may contain forward-looking statements. Forward-looking statements describe future expectations, plans, results, or strategies (including product offerings, regulatory plans and business plans) and may change without notice. You are cautioned that such statements are subject to a multitude of risks and uncertainties that could cause future circumstances, events, or results to differ materially from those projected in the forward-looking statements, including the risks that actual results may differ materially from those projected in the forward-looking statements.