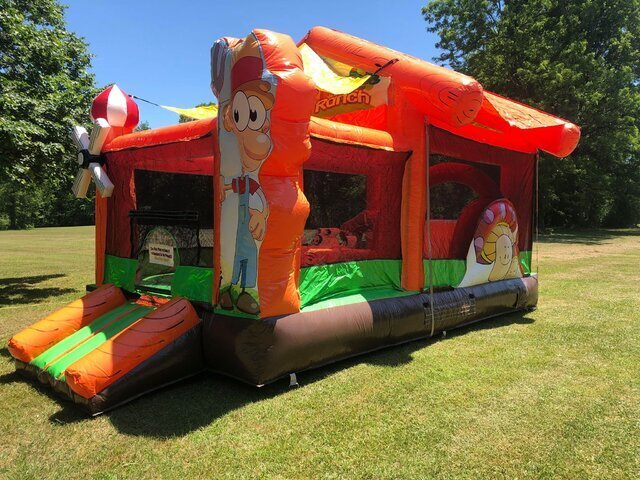 Party Go Round Updates Inventory for End of Summer and Back to School Events in Cincinnati
Celebrate with Best Deals of 2021 including $25 off on Bounce and Water Slide Rentals in Cincinnati
Party Go Round, Cincinnati's leading bounce house rental company is pleased to announce the best deals of 2021; including $25 off on all their bounce houses and water slide rentals in Cincinnati. The company offers the best selection of bounce houses, obstacle courses, interactive games, carnival games, concession machines, water slides, and many more for customers in Greater Cincinnati. Their most popular ongoing deal is the Three Days of Fun for the Price of One exclusively available as a weekday special. Customers will get a bounce house, a combo bounce, or a water slide for 3 days and for the price of 1. This special is available from Monday through Wednesday and Tuesday through Thursday.
All the above-mentioned rentals come at a standard 6-hour rental price. The icing on the cake is that the equipment will be available all through the days and two nights. The party can be extended for as long as the hosts and the guests want. The items will be delivered on Monday and/or Tuesday before noon and picked up after Wednesday or Thursday after 6 PM. Customers can call the team for more details as this deal is not available for booking via the website. This package comes with some of the most popular bounce house rentals in Cincinnati including the unicorn-themed bounce house and tropical-themed water slide rentals.
Summer can get very hot and humid in Cincinnati and what better way to chill it off with a couple of water slides in the backyard. The fun inflatables are perfect for children, teens, and adults. Backyard birthday parties or back-to-school events, these water slides rentals in Cincinnati will sure keep the young ones occupied and exhilarated. Party Go Round does all the setting up before the event and taking down all the bounce house rentals in Cincinnati. They are thoroughly cleaned and sanitized before and after every use.
Party Go Round also takes pride in their rental equipment as they are sourced from premier brands in the industry. They are made up of high-quality and commercial-grade materials that meet all the safety standards. The website is currently featuring the widest selection of inflatables and water slides along with bestsellers such as the Mega Rainbow Combo, 30' Slip 'N Slide, the 19' Blue Ice Slide, 15' Awesome Retro slide, 15' Tidal Wave, and many others. Customers can now book their favorite slides online with few simple steps. They can also call the office during working hours for more information or booking assistance.
To learn more visit https://www.party-go-round.com/
About Party Go Round
Party Go Round is a family-owned and operated company started in 2016 to offer bounce house rentals and water slide rentals in Cincinnati, OH. The company caters to all kinds of private and public events including birthday parties, business and corporate events, church events, social organizations, colleges, and school events, and more.
###
Contact
Party Go Round
Address: Cincinnati, Ohio
Phone: 513-570-5383
Website: https://www.party-go-round.com/
News by: news.38digitalmarket.com