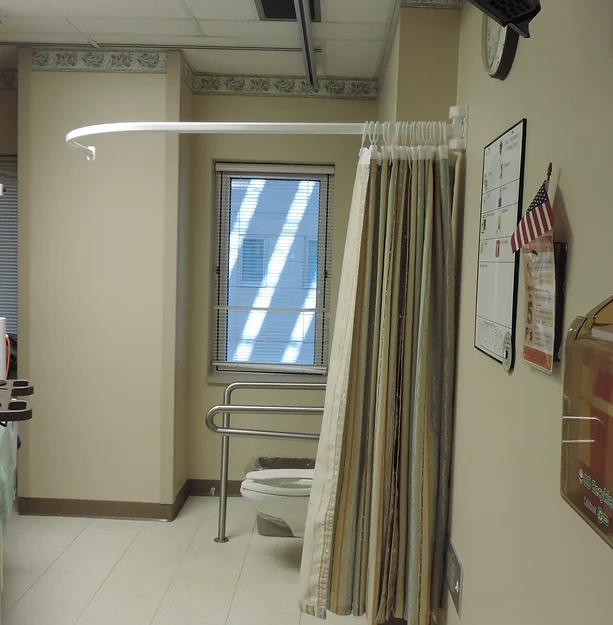 PRVC Systems, Leader in Hospital Curtain Track Systems, Addresses Patient Lift Conflicts
It offers the perfect solution for patient privacy in single and multi-bed patient rooms, bathrooms, and common areas.
PRVC Systems, a leader in hospital curtain track systems, addresses patient lift conflicts in hospitals and healthcare facilities with its innovative curtain track gate systems. These are designed to accommodate the increasing need for patient privacy in single-patient rooms, multi-bed patient rooms, common areas, and bathrooms. They replace the traditional inefficient ceiling-mounted medical cubicle curtain track systems.
The new PRVC cubicle curtain track gate systems address conflicts with common linear patient lift systems like the Horcher Barrier Free Lifts and the UNILIFT PRO patient lifts. Its cubicle curtain track gates allow the patient lift to be moved around the room without any difficulty, covered by privacy tracks and curtains to ensure total privacy in all kinds of patient lift scenarios. These systems work well in patient rooms with two, three, or four beds. They also suit hospital showers and bathrooms. The medical curtain and track gate systems work in all clinical settings and multi-bay areas. They provide 100% privacy for both the patient and the other occupants in the room.
No other medical cubicle curtains in the market can promise complete privacy for patients like the PRVC hospital cubicle curtain tracks provide. Ceiling-mounted medical curtain tracks can become obstacles when the facility needs new installations, such as air conditioning vents, light fixtures, or fire sprinkler systems. With PRVC hospital track systems, there are no such obstacles, and hospitals can make any changes to their ceilings without worrying about the hospital cubicle curtain tracks. What's more, anyone can easily access the curtain tracks without the need for any additional equipment.
If the curtains on the medical curtain tracks have to be changed, cleaned, and replaced, anyone can access them by themselves. The staff can simply unhook the curtains from the patented hook system while standing—no need for a ladder or tall hands. Since the hospital ceiling curtain tracks are not mounted to the ceiling, they are lower and easier to reach. This is not possible with the traditional hospital cubicle curtain tracks that are usually ceiling mounted. Thus, PRVC medical curtain track systems ensure safety and less hassle. Its curtains also come in lovely fabrics and styles, uniform length, and cost-effective pricing.
Hospitals can now save a lot of money buying different kinds of curtains for different-sized cubicles. PRVC provides curtains with uniform lengths and lower hospital cubicle curtain track systems that remain the same throughout the facility. Many clinical facilities have struggled with patient lift conflicts for years. But not anymore, as PRVC offers patient-lift-friendly hospital cubicle curtain tracks that work with many patient lifts, including Human Care Patient Lifts, Horcher Barrier Free Lifts, Handicare Ceiling Lifts, Guldmann Ceiling Lift System, Surehands Lift & Care, Vancare Patient Lifts, Amico Safe Patient Handling Ceiling Lifts, Ez Way Ceiling Lifts, and Liko Ceilings Lifts by Liko. They are also quieter than the traditional ceiling-mounted medical curtain tracks found in many facilities.
To learn more, visit www.hospitalcubiclecurtains.com.
About PRVC Systems
PRVC Systems™ is an American brand best known for its all-new cubicle and hospital shower curtain systems. The systems are designed for easier and faster change-outs. Its curtains are designed to not bind on the track, ensuring they are quieter than traditional grommet curtains on the market.
###
Media Contact
PRVC Systems
1241 Central Ave Ste 634 Wilmette, IL 60091
(844) 352-5089
https://www.hospitalcubiclecurtains.com/
newsroom: news.38digitalmarket.com