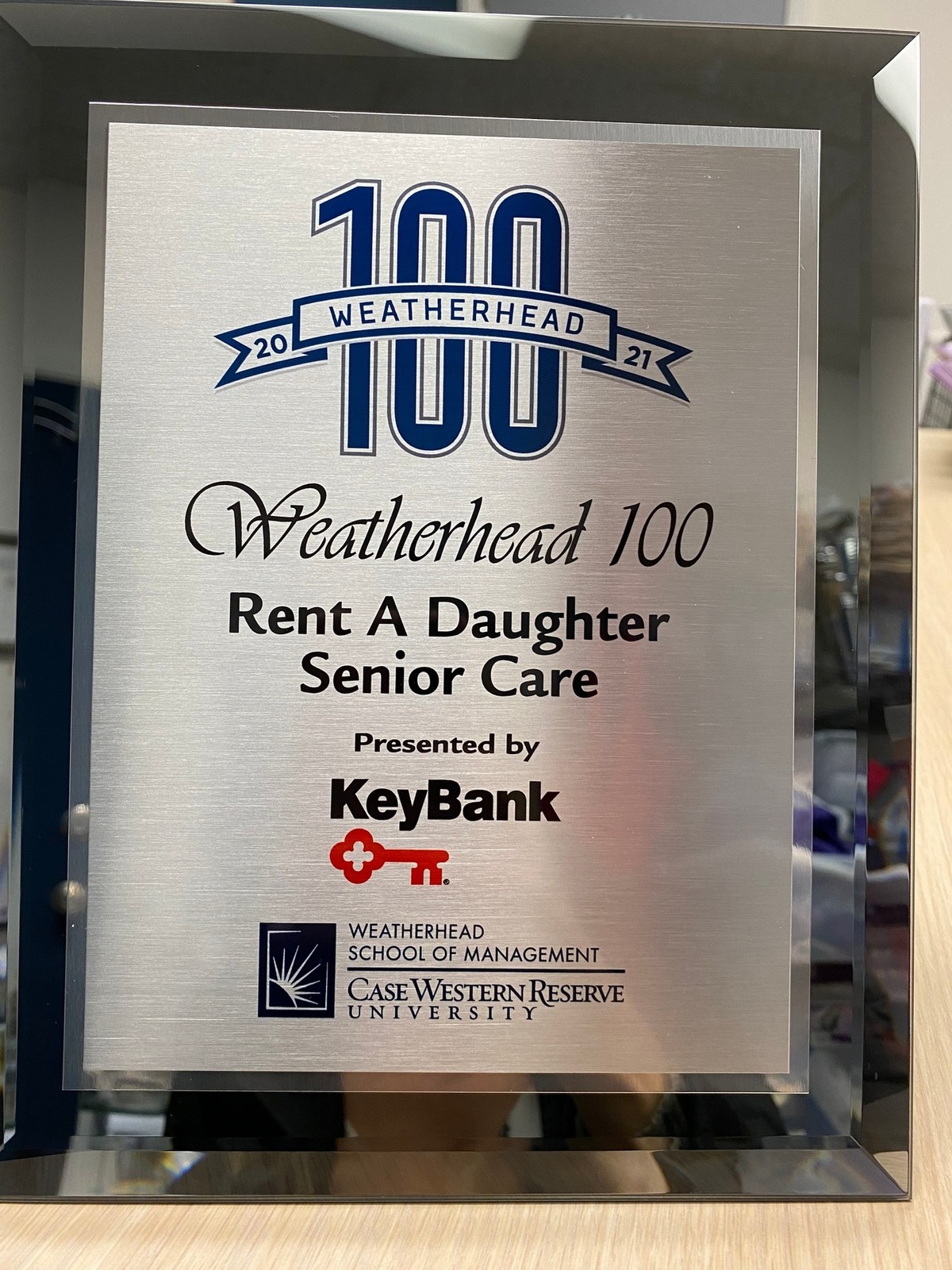 Rent A Daughter Senior Care Provider Chosen As 2021 Weatherhead 100 Winner
Trusted Senior Home Health Care service adds another accolade to its growing reputation
Rent A Daughter, the renowned Senior Home Health Care service has been chosen as one of the 2021 Weatherhead 100 Winners, which is another feather in its illustrious cap.
The Weatherhead 100 awards were instated in 1988 to celebrate Northeast Ohio's spirit of entrepreneurship, and companies leading the way in the region. Every year, the awards recognize companies that embody the best of leadership, growth, and success. It's something Rent A Daughter has done flawlessly while keeping up with its mission of providing dependable and affordable care to seniors at home.
Aging is a part of life, but its impact on seniors and loved ones can be debilitating. It can adversely affect their lifestyle choices, which can be avoided with the help of Home Health Care For Seniors. And that's where the impeccable services offered by Rent A Daughter come into the picture. It endeavors to offer a better quality of life to seniors and helps them maintain independent lifestyles irrespective of age or health issues.
Rent A Daughter has always exceeded the government's guidelines for health and safety protocols. It's particularly helpful in present times when home care is considered to be crucial and favorable to hospital visits. Its caring staff is STNA / First Aid / CPR certified, which means they are well trained and experienced to keep the health and wellbeing of seniors at top priority.
Moreover, its reliable team of professionals is vetted and background checked, which offers seniors and loved ones much-needed peace of mind. These professionals are available for Senior Care from 4 hours episodically or up to 24 hours, seven days a week. These services are designed to be flexible to help clients choose any combination of time they need to ensure that they get optimal care and maintain their independent lifestyles.
Clients can opt for help and assistance for their daily routines, and companionship, which has a positive influence on their wellbeing. Rent A Daughter also offers them specialized healthcare needs based on their specific requirements. Its friendly staff can help clients with their daily personal care and regular activities that can be difficult to manage on their own. Moreover, they can also benefit from transitional services as they move back home after hospitalization.
Its staff is up to the Eldercare challenges of clients with Alzheimer's or Dementia. From meal planning to transportation, medication reminders to plant and pet care, Rent A Daughter offers a wide range of affordable services to elders. Its long list of satisfied customers is a testament to the quality of services it provides. The recognition as one of the 2021 Weatherhead 100 Winners further adds to its reputation as a leader in the industry in the region.
About Rent A Daughter
The trusted leader in professional caregiving has made a name for itself by providing dependable and affordable care that ensures a better quality of life for seniors and helps them maintain independent lifestyles.
###
Media Contacts:
Rent A Daughter
Address: 23715 Mercantile BLVD, Beachwood, Ohio 44122
Phone: (216) 364-1111
Web: https://rentadaughter.org/
Email: [email protected]
This content is published on behalf of the above source. Please contact them directly for any concern related to the above. 
This press release may contain forward-looking statements. Forward-looking statements describe future expectations, plans, results, or strategies (including product offerings, regulatory plans and business plans) and may change without notice. You are cautioned that such statements are subject to a multitude of risks and uncertainties that could cause future circumstances, events, or results to differ materially from those projected in the forward-looking statements, including the risks that actual results may differ materially from those projected in the forward-looking statements.