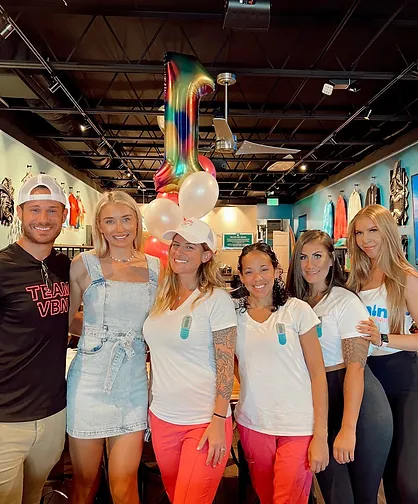 The Vitamin Bar Naples Introduces Semaglutide Weight Loss Injections
It is a powerful weight loss tool with several other health benefits.
The Vitamin Bar Naples is pleased to introduce semaglutide weight loss injections as part of its services. This injection was initially developed as a type 2 diabetes treatment. Seeing it emerge as a powerful weight loss tool, The Vitamin Bar decided to include it in its weight management program. Patients can now experience significant weight loss in a simple, safe, and effective manner. But what exactly is semaglutide?
Semaglutide injections are glucagon-like peptide-1 receptor agonists. They mimic the glucagon-like peptide-1 or GLP-1, which is a hormone naturally produced by the body. The primary job of this hormone is to regulate blood sugar levels, suppress the appetite, and balance the overall metabolism. Semaglutide mimics the same and provides patients with the above-mentioned benefits. Semaglutide weight loss injections offer several benefits for patients and users.
Firstly, the injection helps lower blood sugar levels, stimulates insulin release from the pancreas, and reduces the amount of glucose the liver produces, leading to a better glycemic index that helps manage type 2 diabetes. The second benefit is weight loss. Semaglutide is believed to suppress appetite and slow down food movement through the stomach. This leads to a person feeling full for a long time and avoiding binge eating. The third major benefit is that semaglutide injections are believed to reduce the risk of cardiovascular diseases such as strokes and heart attacks, especially for those suffering from type 2 diabetes.
The other important benefits of semaglutide weight loss injections are decreased blood pressure levels, beta-cell preservation, lower risk of hypoglycemia, improvement of insulin sensitivity, gastrointestinal benefits, and kidney benefits. Clinical trials of semaglutide have shown promising results in weight loss, but the results might vary based on an individual's diet, exercise routine, metabolism, actual weight, and their response to the medication. Interested individuals are requested to schedule a consultation with the medical professionals at The Vitamin Bar. The team will suggest whether an individual is eligible for semaglutide injections based on their medical conditions. Nursing mothers or pregnant mothers must avoid these injections to avoid potential risks. Call now for the most appropriate and custom treatment plan.
To learn more, visit https://www.vbflorida.com/post/semaglutide-weight-loss-injections-the-vitamin-bar.
About The Vitamin Bar Naples
The Vitamin Bar Naples is a Florida-based wellness practice started in March 2022. The center provides vitamin-infused hydration therapy intravenously at the clinic or a location of the client's choice. The customized IV cocktails are designed to fit the individual needs of the patient. Besides having a board-certified physician, Dr. Matt Ahern, D.O., as medical director, the center has partnered with two sister companies in Park City, UT, and Jackson, WY. The Vitamin Bar was started by Elizabeth Pezzello, a lifelong athlete and a postgraduate in business administration, who is working toward earning her second master's degree in human nutrition.
###
Media Contact
The Vitamin Bar Naples
Address: 800 5th Ave S, Naples, FL 34102
Phone: 239-784-2186
Website: https://www.vbflorida.com/
newsroom: news.38digitalmarket.com