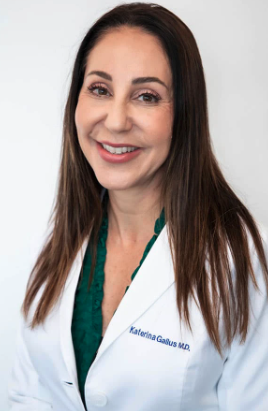 With Experience Operating from War Zones to Elite Hospitals, La Jolla Plastic Surgeon Opens New Surgery Center
"There is more than one way to run an operating room," says the Navy veteran, who recently added a private surgical suite to her practice, Restore SD Plastic Surgery, in La Jolla.
La Jolla female plastic surgeon Dr. Katerina Gallus has opened Restore SD Plastic Surgery Center, a private, Quad A-accredited operating facility.
Dr. Gallus drew on her experience operating in a variety of settings—from the battlegrounds of Afghanistan, to top tier hospitals, to outpatient centers—to design her new state-of-the-art facility. "I have learned that there is more than one way to run an operating room," said Dr. Gallus. "Understanding what is most effective for both surgeons and patients, I designed an optimal surgical environment. Our patients already love our staff and office; now they can have surgical procedures in the same convenient location."
The board certified plastic surgeon began her medical career as a United States Navy physician, eventually deploying in support of Operation Enduring Freedom in Afghanistan to provide immediate surgical trauma support. She established Restore SD Plastic Surgery in 2017.
Convenient, on-site surgery center designed for safe cosmetic surgery
The La Jolla facility features state-of-the-art anesthesia and patient monitoring equipment, high-powered LED surgical lighting, and Microaire power-assisted liposuction, or PAL, which Dr. Gallus can combine with Renuvion skin tightening. To complete the surgical team, Dr. Gallus brought on Dr. Mohamed Ibrahim, a board-certified anesthesiologist with 20 years of experience with plastic surgery in outpatient and hospital settings.
In addition to top-tier equipment and staff, the surgery center offers conveniences including ample, handicap-accessible parking; lockers and phone chargers; a peaceful, quiet setting with an attentive nurse; a private exit; and optimal scheduling.
"Having my own operating room allows my patients to choose a preferred, convenient surgical time that fits their schedule. And, with the same team and location, check-in is now a breeze. If you are coming from the La Jolla area, we are 10 minutes or less away; for our patients that drive from Carmel Valley or Del Mar, we are only about 15 minutes away," Dr. Gallus explained.
Surgeries performed at the surgery center include:
The practice also offers non-surgical treatments in the office setting, including Botox® and laser skin treatments.
Quad A-accredited facility
The facility holds voluntary accreditation from Quad A (formerly AAAASF), which monitors the surgery center for over 350 stringent patient safety standards; sterility, equipment functionality, and even staff qualifications help to mitigate the primary risks of plastic surgery, like anesthesia or infection complications.
"Choosing an on-site, accredited surgery center is extremely beneficial for safety and results," commented Dr. Gallus. "It's a dream come true to work with my patients in a space that meets these high standards while helping them feel relaxed and pampered."
To schedule a free plastic surgery consultation with Dr. Gallus, call 858-224-2281 or contact the practice online.
About Restore SD Plastic Surgery: Dr. Katerina Gallus is board certified by the American Board of Plastic Surgery and holds over 20 years of experience in plastic and reconstructive surgery. After a 12-year career as a U.S. Navy plastic surgeon, Dr. Gallus established Restore SD Plastic Surgery, which offers plastic surgery and aesthetic services in La Jolla. Restore SD Plastic Surgery is located at 8899 University Center Ln #200, San Diego, CA 92122. The practice can be reached at 858-224-2281 or by visiting https://restoresdplasticsurgery.com/.
Media Contact: Dr. Katerina Gallus, 858-224-2281

###
newsroom: news.38digitalmarket.com