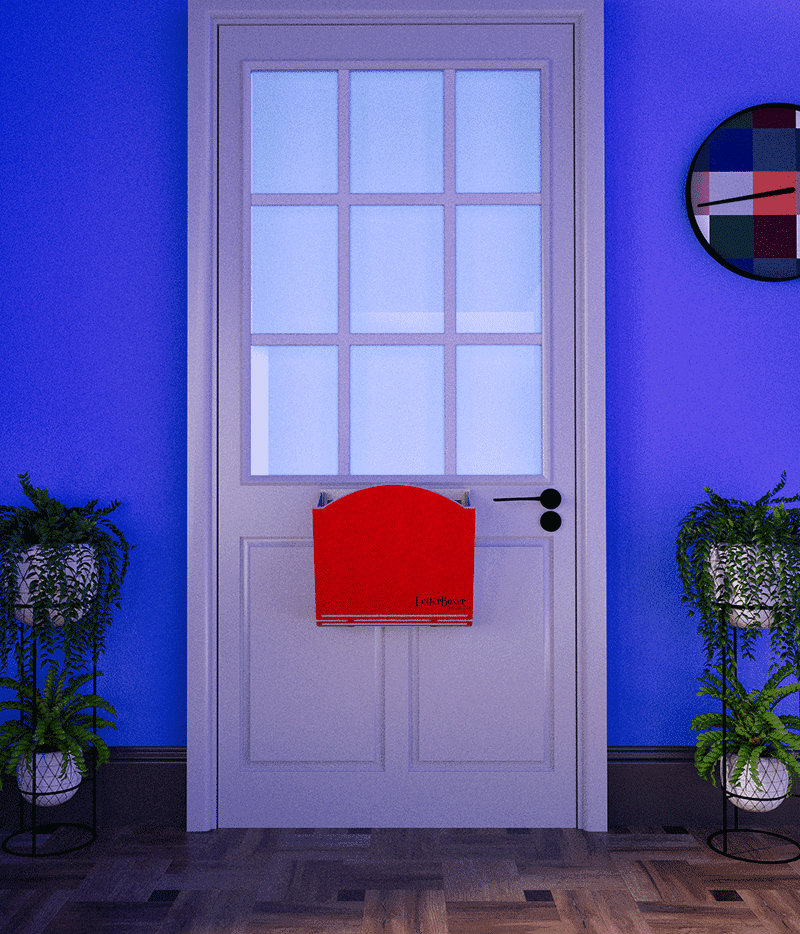 Woodworking Enthusiast in Morecambe Creates LetterBoxer, Handcrafted Mail Catchers in Bespoke Designs and Colors
Easy to Install Letter Box Cages with Ultimate Functionality. Personalized Versions Available.
MORECAMBE, ENGLAND - 10th December 2020 – LetterBoxer is pleased to present the most stylish and improved alternative to the wire letterbox cages. The mail catchers designed here are quirky, cool, and most importantly functional. Available in an entirely easy to install design, any person can install it with no professional help that too in just a couple of minutes; no need for additional tools, no need for drilling holes, and no special equipment. The LetterBoxer letterbox cages are made using solid birch plywood which is known for its sturdiness and stability. This plywood is also known for its extreme resistance to warping and bowing. The fabric used for the bottom and side panels is made up of heavy-duty upholstery fabric with the anti-rip feature and can be easily cleaned using a paper towel.
Redefining functionality, the Letter Box Cages are designed to fulfill three major requirements. The first being sturdiness and its ability to keep the mail contents intact. Secondly, the mail catcher eliminates piling up of mail on the floor thereby avoiding restrictions while opening the door or the mails getting thrown under the tables when the door is opened at once. Last but not the least, the stylish design suits any home décor theme. And since they are available in different colors, one can choose the best that suits their home. The LetterBoxer mail catcher doesn't damage the adjacent wall while opening and closing the door. The true icing on the cake is that it can totally be personalized. The LetterBoxer can be customized with an image, clipart, text or photos. This gives a bespoke touch to the Letter Box Cage.
There is one thing that needs a special mention here. According to Royal Mail, the letterboxes are off-limits for pets. This is because over 2500 postal workers are attacked by pet dogs every year in the UK alone. And the high court has ruled that pet owners would be penalized if their pets bite the postal workers. So, what better alternative than to install the LetterBoxer mail catchers right away and keep the dogs not just from biting the postal workers but also from chewing or spoiling the mails. Last but not the least, the ergonomic design also ensures that the mail is picked up without bending. LetterBoxer's Letter Box Cage totally qualifies for the best gift for any occasion. The mail catchers are now available in cool colors such as red, orange, grey-green, blue, yellow, and birch.
To browse for more mail catchers visit https://letterboxer.co.uk/
About LetterBoxer
LetterBoxer is a quirky letterbox store started by David Handford who is a trained artist and a woodworking enthusiast. David owns a traditional digital fabrication workshop in Morecambe, England. Known for his bespoke designs, David creates inspiring products with a functional appeal. LetterBoxer is one of those inspirations and is the best alternative to the letterbox cages or the conventional mail catchers available today. The LetterBoxer is beautifully crafted to last longer and comes with a forever warranty
###.
Contact
LetterBoxer
Address: Shadowdog Studio, Whitegate, White Lund Industrial Estate, Morecambe LA3 3BT
Phone: 01524-881433
Email: [email protected]
Website: https://letterboxer.co.uk/
Disclaimer: The information does not constitute advice or an offer to buy. Any purchase made from this story is made at your own risk. Consult an expert advisor/health professional before any such purchase. Any purchase made from this link is subject to the final terms and conditions of the website's selling. The content publisher and its distribution partners do not take any responsibility directly or indirectly.  If you have any complaints or copyright issues related to this article, kindly contact the company this news is about.